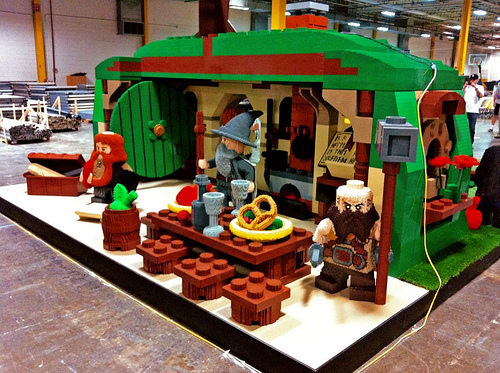 I can only assume that this massive sculpture was built to promote the release of sets based The Hobbit, but I have no idea where it is (or where it's going to be) displayed. I certainly hope it shows up at the NY Toy Fair in February though. You can view the original gallery on LEGO's Facebook page, or on Flickr by clicking the image. Hopefully some better pictures will be forthcoming very soon.
This is what LEGO had to say about it:
It took a team of 12 model shop employees 3,000 hours to build this life size model of the LEGO Bag End set. In addition to containing over 2 million 1×1 bricks this model has working lights in the fireplace and over the bookstand as well as a chimney that really smokes!
Sorry to say, I like this a lot more than the movie itself.