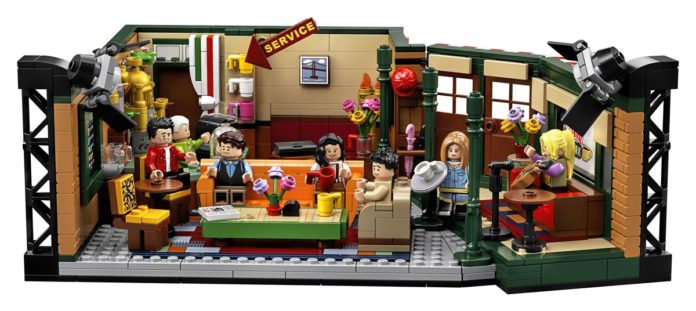 I've been sitting on these Friends LEGO set of Central Perk images for almost a week and after the initial "Oh my god I can't believe they're making a Friends set" reaction (yes, I forgot that it was based off of an Ideas project), it really hasn't moved the needle much.
I don't know if it's because it's late, I'm hungry, or tired, or what, but I can't even pretend to like this set. I loved the show Friends. Grew up on it, watched it during my college days and then some. But seeing it turned into a LEGO set wasn't exactly on my bucket list. I'm not exactly sure what this set has to offer in terms of play value and it is 100% banking on nostalgia to generate sales. I want to like this set, I really do. But there really isn't much there. Non-fans will skip it. Fans will probably want it. And I'd like to think it would at least do better than the Big Bang Theory set. But I'm probably going to pass. Would rather put the money towards The Upside Down set if anything.
This. The Big Bang Theory set. Maybe LEGO should do a TV Series spinoff sub-theme and stop polluting the LEGO Ideas catalog. It feels like it's cheapening the brand in a way.
The official on-sale date for 21319 Central Perk is September 1st, 2019 at LEGO Shop@Home and Brand Retail locations. The price is $59.99 USD / $89.99 CAD and for that you'll get 1,070 pieces and minifigs of Ross, Rachel, Monica, Ms. Chanandler Bong, Joey, Phoebe, and Gunther. Their prints and designs are based off the first season of the show.
And the embargo lifting on a Thursday is no coincidence.
Official Images of 21319 Central Perk
21319 Central Perk Product Info
21319 Central Perk
Ages 16+. 1070 pieces
US $59.99 – CA $89.99 – DE €69.99 – UK £64.99 – FR €59.99 – DK 649DKK
*Euro pricing varies by country. Please visit shop.LEGO.com for regional pricing.
Nostalgic, collectible LEGO® Ideas set to delight fans of the classic TV sitcom Friends!
Celebrate the 25th anniversary of Friends, the legendary American TV sitcom, with this highly collectible LEGO® Ideas 21319 CENTRAL PERK set! This wonderful LEGO recreation of the café TV studio set is packed with authentic details, making it a must-have Friends memorabilia item for fans. The iconic seating area with a couch, armchair and 2 chairs for the friends is removable for easy play. And check out the stage where Phoebe performed her songs on guitar (and where Ross once played his keyboard and everyone except Phoebe thought he was terrible). The 7 new-for-September-2019 LEGO toy minifigures of Ross, Rachel, Chandler, Monica, Joey, Phoebe and CENTRAL PERK's long-suffering manager Gunther each come with accessories to role-play famously hilarious scenes. An ideal Friends-themed gift for your own friends and family who love the TV show, this hot toy is great for play and will grab attention when displayed in any room.
This LEGO® Ideas set includes 7 new-for-September-2019 minifigures: Ross Geller, Rachel Green, Chandler Bing, Monica Geller, Joey Tribbiani, Phoebe Buffay and Gunther.
The CENTRAL PERK café construction toy features the iconic main seating area including a sofa, armchair, 2 chairs and a table; service area with a brick-built coffee machine, service counter, cash register, cookie jar with 2 cookie elements, menu board element and other authentic items; a stage for musical performances with a sofa; extra seats and tables; 3 pillar elements in a new- for-September-2019 green color; umbrella stand with 2 umbrella elements; window with 'CENTRAL PERK' logo decoration; entrance doors; and 2 brick-built TV studio light rigs with translucent light-style elements.
The seating area for the show's star characters is removable for easy play.
The minifigures each have their own items inspired by the TV series, including Ross's brick-built keyboard and the following accessory elements: Rachel's tray and coffee cup, Monica's muffin, Joey's pizza box, pizza slice and 'man bag', Chandler's laptop, Phoebe's guitar and Gunther's broom.
Other accessory elements in this café playset include a newspaper, 15 coffee cups and a

'Reserved' sign, plus 3 vases and buildable flowers.

This Friends memorabilia LEGO® building toy includes 1,070 pieces.
This LEGO® Ideas set comes with a booklet with building instructions and information about thisawesome set's fan creator and LEGO designer.
Build and display this Friends collectible construction toy or recreate your favorite scenes from the classic American sitcom.
• This Friends-themed gift toy measures over 4" (11cm) high, 11" (29cm) wide and 8" (22cm) deep and will make an eye-catching centerpiece in any room.