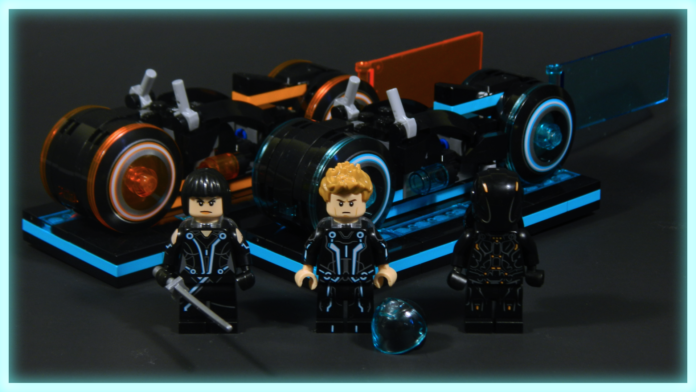 Tron: Legacy is an okay movie. But since 2010, the look and the sounds of the movie have called up a huge fan following. Even me, someone who hadn't seen the movie until a few weeks ago, had friends petitioning for a Tron 3 and getting excited at every rumor that Disney might be releasing a sequel. But, hey, at least Lego released a Lego Ideas set based on the best scene in the movie – the light cycle chase!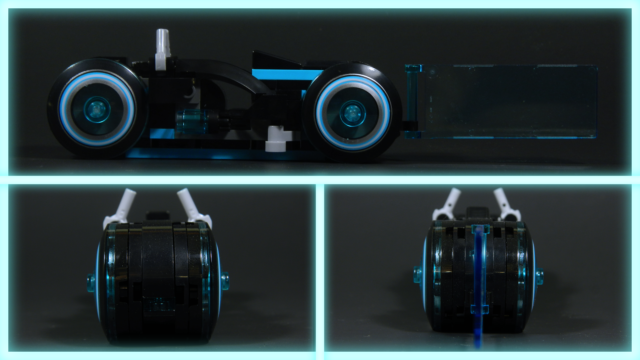 So: the bikes. The obvious draw to the set; they look…pretty good. Not great, though. I feel like a blend of this design with the original Ideas design would work better, especially using this cylinder as the wheel instead of Lego's printed plates. I get why Lego goes with the most structurally sound option, but the bikes lose a bit of their "Tron"-ness with these wheels. Ah well. Other than that, not any problems issues. The bikes are solid to hold. The wheels don't really roll due to the 1×8 plate that affixes the bike to the stand. The light…bar(?) on the back of the bike is fairly flimsy, and I've had it fall off several times moving the bikes around.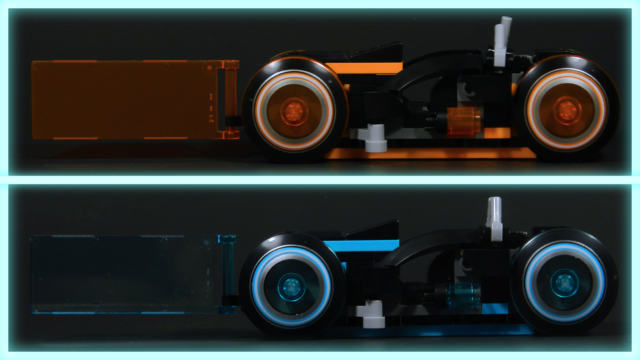 The orange bike is 100% the same as the blue bike, but in orange. Which is…fine. I don't enjoy building the exact same model again in a Lego set. It gets boring.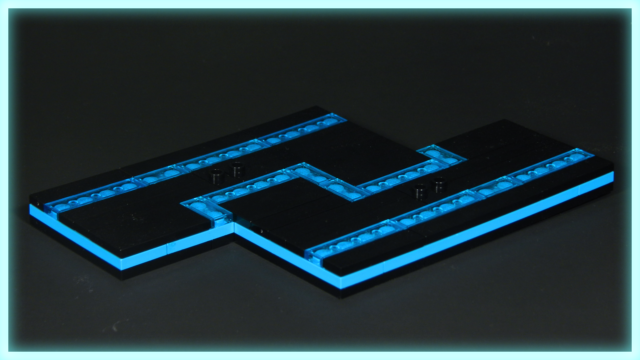 This base for the bikes instantly calls out "I'm from Tron!", so points there. It looks quite nice with the bikes on it. There's a missed opportunity to fit Quorra somewhere, as Sam and Rinzler's minifigs go on the bikes, and she lays to the side. Besides, this set isn't a playset so much as a model. All it takes is two studs, Lego! I'm not trying to go for movie accuracy!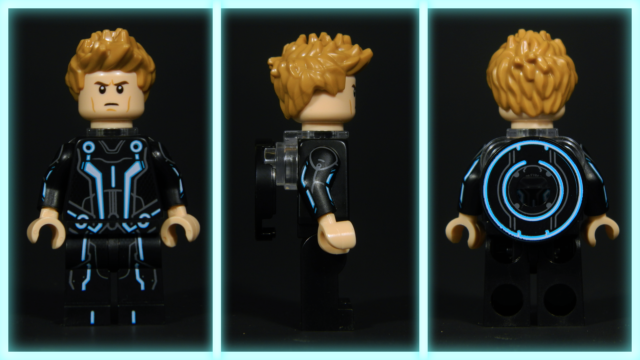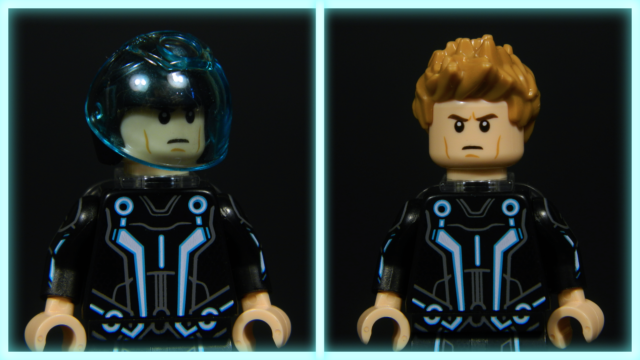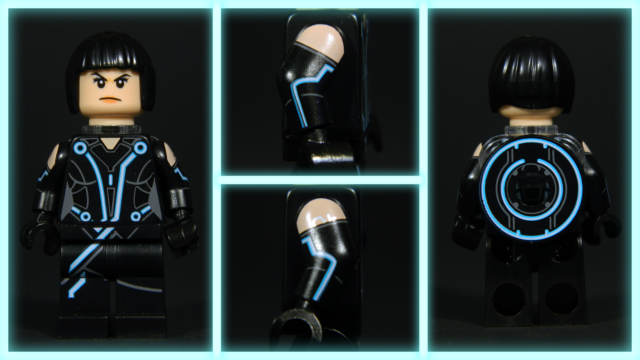 Speaking of the minifigs, while they approach what I call the "overly detailed zone", they skirt the line. Personally, Quorra and Sam don't look much like Olivia Wilde and Garrett Hedlund (yea, I had to look him up). It's more "generic TRON male and TRON female".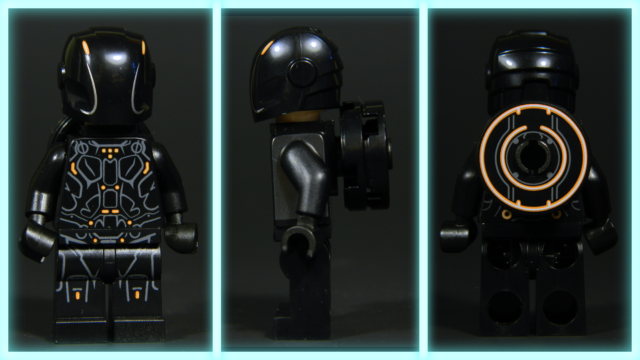 But Rinzler looks oh-so-good. He gets two discs as well. I like his disc holder far better than Quorra's and Sam's. They look a little awkward.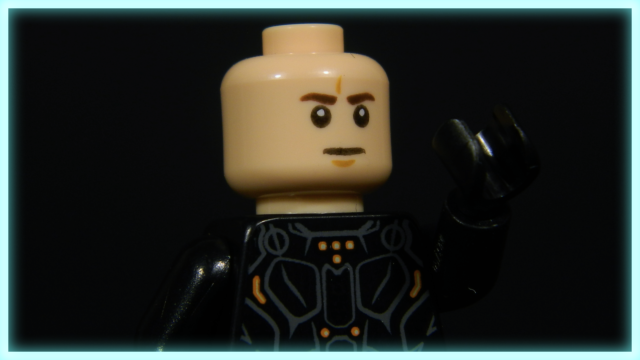 Can't say I much like Rinzler's face, though. What happened to the days where we could have a black head and call it a day? Now I have this badly printed "evil thug #3" face.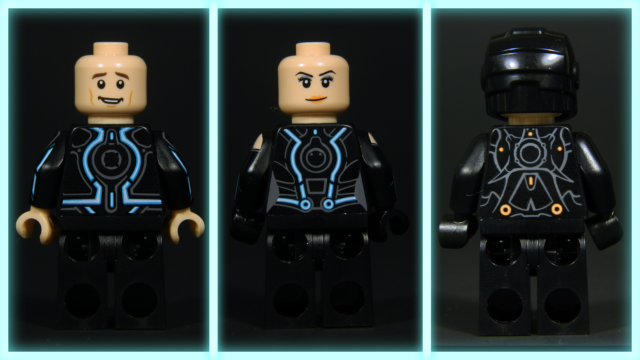 Take off the disc holders and each figure has a printed disc holder (I need a better name) on their back. It doesn't look quite as Lego-y, but it's smart attention to detail.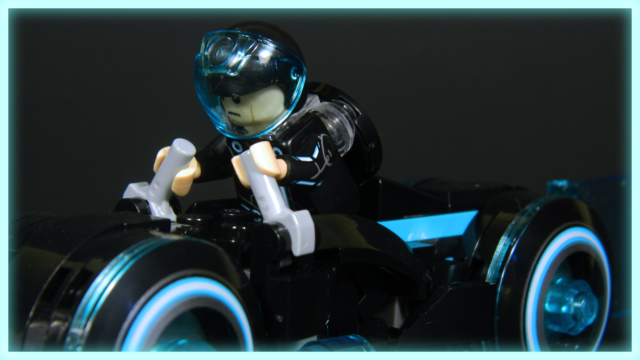 My only real issue for the set is trying to put the figures on the bike. It's really finicky. You have to line the hands up just right without having the clips bend forwards or back too much. There was definitely a better way to do this. I realize the handles on the actual cycle are way down by the wheel, but using this handlebar piece would have felt so much better. Oh well. I'm sure Lego had their reasons.
Throwing it Against a Wall?
Take the light bar off, and I'd be surprised if any piece on this sucker falls off. You can put my signature on that.
Final Thoughts
All in all, it's not a half bad set. It works as a display set, and take the light bar off the back and you have a solid bike you can give to the kiddies to chew on for half an hour. I can't really take points off for things I wish Lego had done with this set, but trying to put a figure on the bike is so annoying that I'll give this set a 4/5. 
Also, major thanks to Ace for shipping me this set for review.
Grab It on Amazon
It's 35 bucks on Amazon. If you're a fan of Tron, it's worth it for the price. If not, might as well pass it and save for the next license that Lego pulls out of nowhere.
Win the Review Copy
Send an email with the subject line JEFFBRIDGES along with all the right details based on the giveaway rules to giveaways@fbtb.net. Entry ends at 11:59 on August 13th, 2018. We'll draw the winner sometime after that and that person will win the set used in this review.
Help Keep The Lights On
Like the review? Consider helping FBTB keep the lights on by donating or becoming a subscriber. We get little support from LEGO these days so we rely on ads, affiliate fees, and donations to keep going. 100% of the money goes towards operational costs and set purchases for reviews, giveaways, and contest prizes. Thank you for your consideration.
And for the record, LEGO did NOT provide a review copy of this set.