I can't think of a better way to start a Monday than with a couple of new product announcements. From Harry Potter, we have 75950 Aragog's Lair, a $14.99 set with 157 pieces. From Fantastic Beasts, we have 75952 Newt's Case of Magical Creatures, a $49.99 set with 694 pieces. The Case set looks absolutely fantastic, no pun intended. You build a briefcase that opens up to a small playset.
75950 Aragog's Lair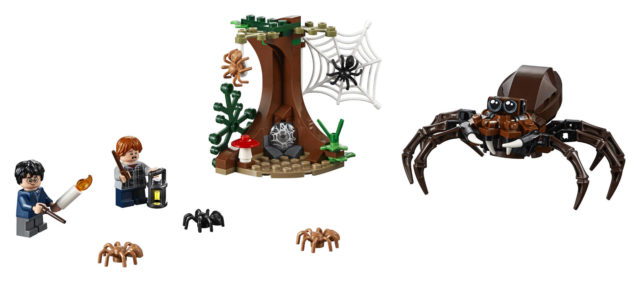 Recommended Retail Price: $14.99
Piece Count: 157
Who dares enter LEGO® Harry PotterTM 75950 Aragog's Lair? Help Harry and Ron escape the giant spider and his army of offspring in the Forbidden Forest. Use your magic wands and lantern to fend off the colony of spiders, flying cobweb and Aragog's fearsome fangs—then escape the creepy hollow!
Includes Harry PotterTM and Ron WeasleyTM minifigures.
Features a buildable Aragog spider and tree.
Aragog has 8 posable legs and 2 movable fangs.
Tree has a spiderweb shooting function, attached spiderweb and a buildable red and white mushroom.
75952 Newt's Case of Magical Creatures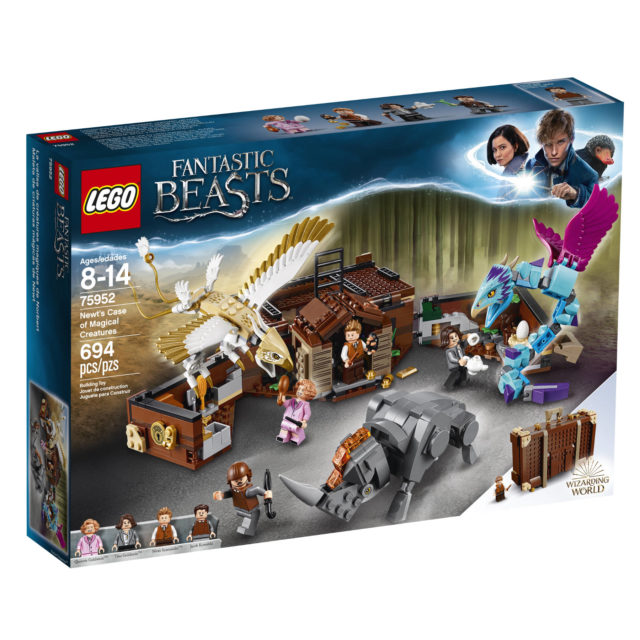 Recommended Retail Price: $49.99
Piece Count: 694
Step into LEGO® Fantastic BeastsTM 75952 Newt's Case of Magical Creatures, there's room for everyone! Help Newt take Jacob, Tina and Queenie on a tour around the different magical beast habitats, and teach them how to look after the Erumpent, Occamy, Thunderbird, Niffler and Bowtruckle. Have lots of Fantastic Beasts fun exploring, mixing potions and caring for the magical creatures.
Includes 4 minifigures: Newt ScamanderTM, Jacob Kowalski, Tina GoldsteinTM and Queenie GoldsteinTM, as well as buildable Erumpent, Occamy and Thunderbird creatures, plus Niffler and Bowtruckle figures.
Features a buildable and foldable case containing a nest with an Occamy egg, shelter and grooming areas.
Accessory elements include 4 wands, a teapot, brush, meat cleaver, turkey leg, umbrella, helmet, coins, gold bar, ladder, bucket and magic potions.