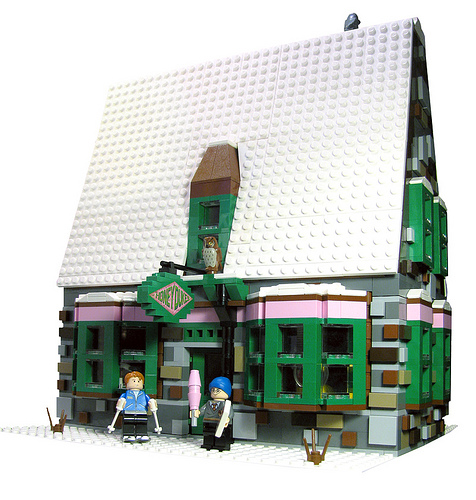 FINALLY, after weeks, if not months, of complaining that AFOL sites do not get exclusive set news, LEGO has heard our cries and seen the error of their ways. FBTB was given an exclusive scoop: 10225 Hogsmeade Village Series: Honeydukes Sweetshop is the first building in a series designed to recreate Hogsmeade, one building at a time. Next in the series is 10226 Three Broomsticks Inn, and it's easy to speculate that we could be getting a Hog's Head Pub (with Aberforth!) and maybe a new Shrieking Shack (new Wormtail or Lupin with the new werewolf hairpiece?)
Available exclusively through LEGO Shop@Home starting June 1, Honeyduke's Sweetshop is priced at $89.99 for 972 pieces and has 5 minifigures, including Harry, Fred and George Weasley, and Mr. and Mrs. Flume. Honeydukes features two levels of the famous candy store, and even has the secret door to the cellar where the Weasley twins and Harry sneak into the village! Satisfy your sweet tooth with the first set in the Hogsmeade Village Series: Honeydukes Sweetshop!
At least now we know why the range of HP sets at Toy Fair was so anemic. More news on this awesome series as we get it!