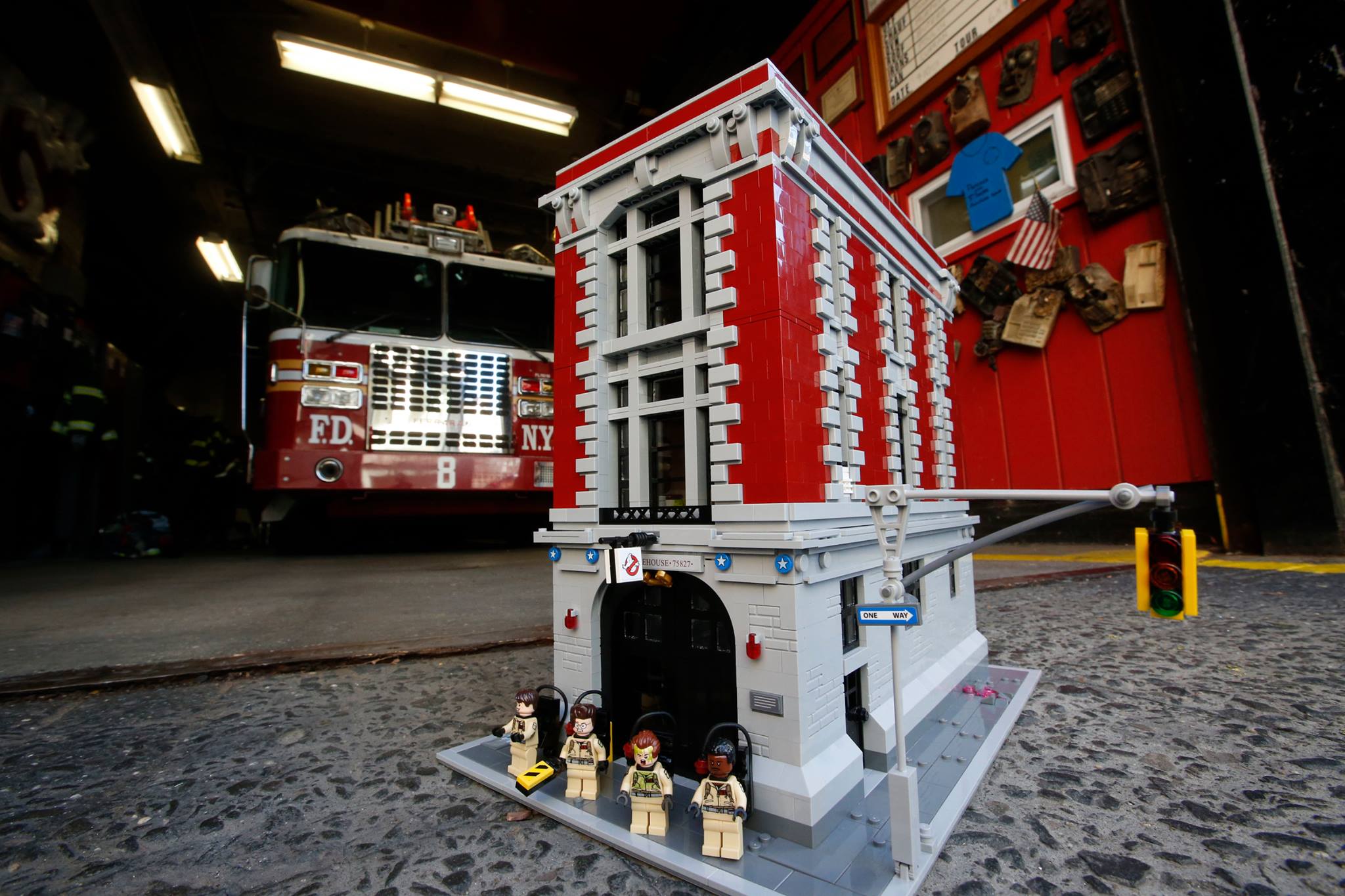 Update: Some additionals details came out via their press release posted below the photos.
Today is my son's birthday and I can't think of better LEGO news for him, or worse news for my wallet, then the announcement on LEGO's Facebook page of the Ghostbusters Firehouse Headquarters.
Weighing in with 4,634 pieces, the iconic two-story firehouse set features a laboratory, living quarters, a containment unit and nine minifigures: Peter Venkman, Raymond Stantz, Egon Spengler, Winston Zeddemore, Janine Melnitz, Dana Barrett, Louis Tully, Zombie Driver and Library Ghost, and also includes Slimer, Pink Ghost and Blue Ghost. Also, a pole for Ray to get really, really excited about.
Available in January 2016 for $349.99 US, so skip the Chinese take-away and start saving your petty cash now.
75827 Firehouse Headquarters
Ages 16+. 4,634 pieces.
US $349.99 – CA $399.99 – DE 349.99€ – UK £274.99 – DK 2999.00 DKK
*Euro pricing varies by country. Please visit shop.LEGO.com for regional pricing.

Get ready to bust some ghosts at the Firehouse Headquarters!

Recreate iconic Ghostbusters™ scenes with the 2-story Firehouse Headquarters, featuring laboratory, living quarters, containment unit and much more. Capture the ghosts with the proton packs and restore order, or solve other supernatural cases! Includes 9 minifigures: Peter Venkman, Raymond Stantz, Egon Spengler, Winston Zeddemore, Janine Melnitz, Dana Barrett, Louis Tully, Library Ghost and Zombie Driver.
• Includes 9 minifigures: Peter Venkman, Raymond Stantz, Egon Spengler, Winston Zeddemore, Janine Melnitz, Dana Barrett, Louis Tully, Zombie Driver and Library Ghost.
• Also comes with Slimer, Pink Ghost and Blue Ghost.
• Slide the Ghostbusters™ heroes down the fire pole into action.
• Chase the ghosts and secure them in the containment unit.
• Turn the librarian old lady into a scary ghost with the double-sided face and extra wig!
• Run tests on Louis in the lab to see if he's possessed!
• Suspend ghosts around the building's exterior with attachable transparent arms.
• Dodge the slime oozing up through cracks in the pavement.
• Accessory elements include an alarm bell, fire extinguisher, computer, phone, toolbox, tools, jars of slimes, magnifying glass, camera, camera rolls, arcade game, toaster with slime, fridge with frozen pizza, milk and cheese, and much more!
• Features opening walls for easy play access.
• Ghostbusters™ minifigures come with decorated arms.
• Measures over 14" (36cm) high, 9" (25cm) wide and 14" (38cm) deep.
• With walls opened out, measures over 14" (36cm) high, 18" (46 cm) wide and 14" (38cm) deep.
• Firehouse Headquarters doors can open to fit the 21108 LEGO® Ideas Ghostbusters Ecto-1 inside!

Available for sale directly through LEGO® beginning
January 2016 via shop.LEGO.com, LEGO® Stores or via phone:

US Contact Center 1-800-453-4652
CA (English) Contact Center 1-800-453-4652
CA (French) Contact Center 1-877-518-5346
European Contact Center 00-800-5346-1111

LEGO, the LEGO logo and the Minifigure are trademarks of the LEGO Group. ©2015 The LEGO Group. All rights reserved. © 2016 Columbia Pictures Industries, Inc. All rights reserved