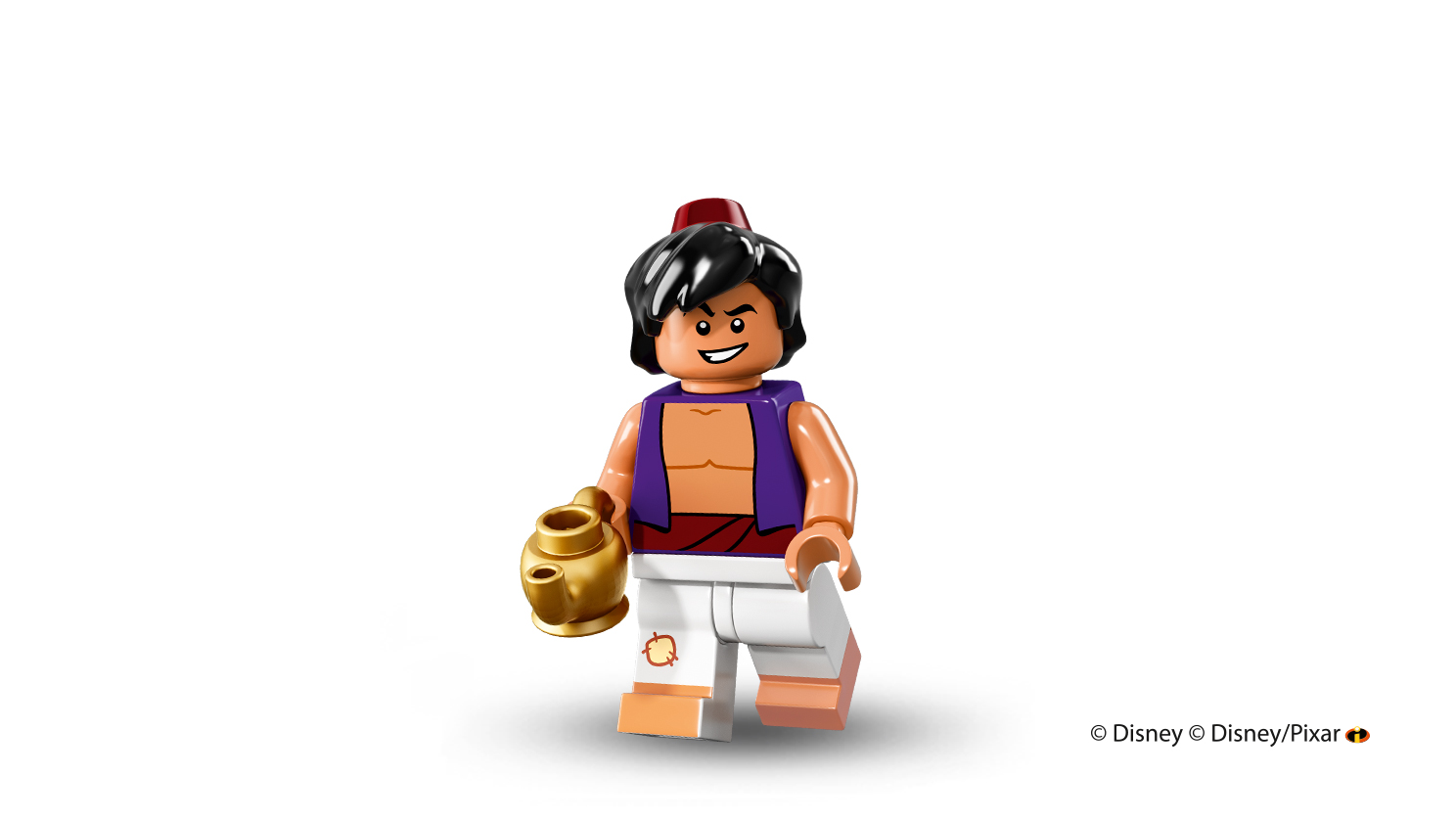 Following on the heels of its Facebook reveal, LEGO sent over some more pictures consisting of large close ups of all of the individual figures in this assortment. There are 18 figures in this line instead of the usual 16. It's a little puzzling and not good for my OCD. I like using the official LEGO licensed minifigure case but those only come in sizes of 2×8, and not 2×9. There's a 2×4 option but that's still just a lot of empty space and breaks the pattern. Not good. They could have just banked 2 figures for a future assortment because let's be honest here, this will be the most popular minifigure series ever made and I can't think of any reason to make 18 instead of 16.
On the bright side however, we do get 2 more Disney figs than we would normally get because there is a tiny possibility that this will be the only Disney series they'll make but they're just printing money and I don't see why they'd pull a one-and-done thing here.
Prepare thine wallets because the Disney Minifigures line is scheduled to hit shelves on May 1 and will be priced at $3.99 each. More images and the full press release after the click.
New LEGO® Minifigures Series Features First-Ever Disney Character Edition

– LEGO Minifigures Collection Features 18 Iconic Disney Characters –

BILLUND, Denmark (March 29, 2016) – The LEGO Group today announced its 18th collection of LEGO® Minifigures starring some of The Walt Disney Company's most beloved characters inspired by stories from across the entire Disney universe. Eighteen new minifigures bring to life in LEGO form for the first time the playful personalities of some of the most iconic characters from Disney classics such as Peter Pan and Alice in Wonderland to Disney·Pixar favorites like The Incredibles and Toy Story.

"For more than 16 years, fans have been recreating their most beloved Disney stories through LEGO play," said Jill Wilfert, vice president of licensing and entertainment for The LEGO Group. "This year, we're excited to give them a diverse collection of Disney characters from classic storylines, to never-before-seen LEGO likenesses of Disney icons in order to further the creative play possibilities for Disney and LEGO fans alike."

This collectible series of LEGO Minifigures will be widely available for purchase in all major toy retailers, as well as at shop.LEGO.com and in LEGO Stores nationwide in May, with a suggested retail price of $3.99 (USD) each.

Disney Animated Classics Characters

From Disney's collection of timeless animated characters, the LEGO Group introduces minifigure versions of the beloved Mickey Mouse and Minnie Mouse characters, their temperamental friend Donald Duck, and his leading lady, Daisy Duck. Enthusiasts of 1950s Disney stories will appreciate the inclusion of Alice and the Cheshire Cat from Alice in Wonderland, Peter Pan and Captain Hook from Peter Pan, and the evil witch Maleficent from Sleeping Beauty. Disney fans will also love minifigure versions of Ariel and Ursula from The Little Mermaid and the beloved Genie and Aladdin from the fictional city of Agrabah featured in Aladdin, plus the ultimate alien friend, Stitch, from Lilo & Stitch.

Disney·Pixar-Inspired Heroes and Villains

Two Disney·Pixar characters never-before-seen in the LEGO world become minifigures – Mr. Incredible and archenemy Syndrome from Disney•Pixar's The Incredibles. Additionally, fans can collect minifigure versions of two icons from the beloved Disney•Pixar's Toy Story – Buzz Lightyear and the squeak-toy Alien from Pizza Planet.

# # #

About the LEGO Group

The LEGO Group is a privately held, family-owned company with headquarters in Billund, Denmark, and main offices in Enfield, USA, London, UK, Shanghai, China, and Singapore. Founded in 1932 by Ole Kirk Kristiansen, and based on the iconic LEGO® brick, it is one of the world's leading manufacturers of play materials. Guided by the company spirit: "Only the best is good enough", the company is committed to the development of children and aims to inspire and develop the builders of tomorrow through creative play and learning. LEGO products are sold worldwide and can be virtually explored at www.LEGO.com. For more news from the LEGO Group, information about our financial performance and responsibility engagement, please visit http://www.LEGO.com/aboutus.

LEGO, the LEGO logo, the Minifigure, and the brick and knob configuration are trademarks of the LEGO Group. © 2016 the LEGO Group.