The LEGO Group sent out some assets for an upcoming 2019 set in the LEGO DC Super Heroes assortment: 76117 Batman Mech vs. Poison Ivy Mech. "Poison Ivy Mech". Pretty sure the word "mech" or "mecha" is short form for "mechanical", implying a machine for a piloted bipedal vehicle. Poison Ivy's "mech" looks way to organic for that moniker. While you can argue the gray bits are the mechanics, you can't tell me that it isn't supposed to be a walking tree that Poison Ivy sprouted out of the ground.
76117 Batman Mech vs. Poison Ivy Mech will be on display at the LEGO booth later this summer at the San Deigo Comic Con.
76117 Batman Mech vs. Poison Ivy Mech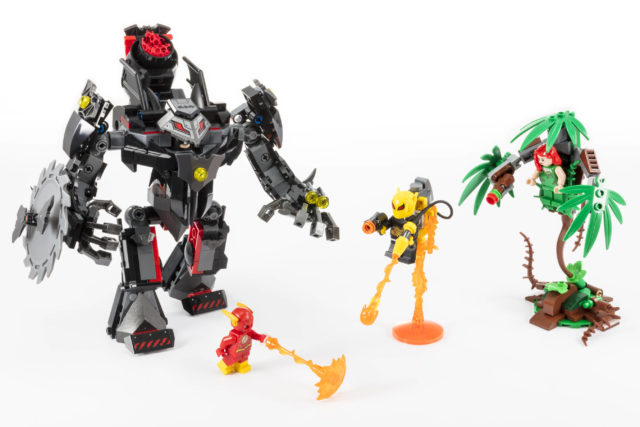 Launching January 1, 2019
Piece count 375
Price $39.99
Age 7+
Includes 4 minifigures: Batman™, Poison Ivy™, The Flash™ and Firefly .
Batman™ Mech features an opening minifigure cockpit, posable arms and legs, gripping hands to grab a minifigure, dual stud shooter, spinning saw blade and a retractable net shooter
Poison Ivy™ Mech features a minifigure cockpit, stud shooter, posable branch 'arms', gripping poison ivy leaf 'hand' to grab a minifigure and collapse function.
Knock over the Poison Ivy™ Mech with the saw blade.
Includes 10 assorted new-for-December-2018 translucent-orange Power Burst elements to customize your builds, minifigures and tools.