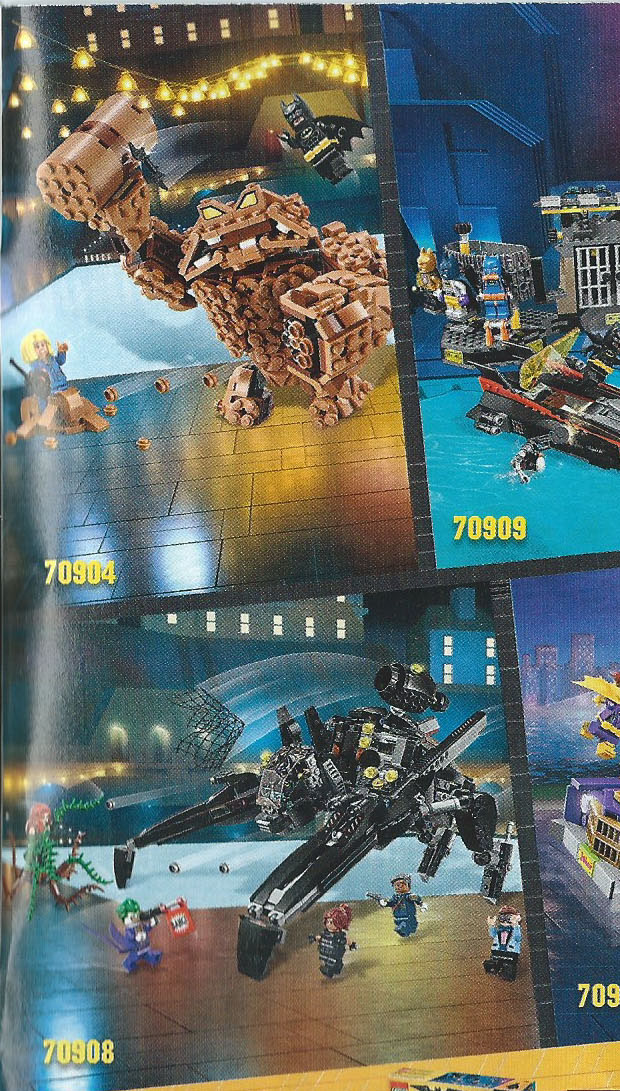 This sort of slipped through the cracks while life got in the way for a couple of this month, but now that we're focusing on getting our reviews for The LEGO Batman Movie and DC Friends sets, we're running across a whole mess of sets that we have been announced or can now be found in the instruction books for the current preview wave of sets.
The current lineup of sets includes 70901 Mr. Freeze Ice Attack, 70905 The Batmobile, 70906 The Joker Notorious Lowrider, and 70909 Batcave Break-In… obviously there are a few numbers between each of those. We know one of them will probably be taken up by the Collectible Minifigure line, and Arkham Asylum has already been revealed (as a Toys 'R Us exclusive). Turns out several other sets have been revealed… hop below the fold to check them out!
Thanks to Brickset and BrickToyNews for descriptions of some of the sets!
First up we have a pair of sets that were revealed in the instruction books for the current sets. 70904 Clayflace Splat Attack and 70908 The Scuttler…
There are a couple of more official images of both, but these will give us another version of the Joker (this time with coattails), Barbra Gordon outside of her Batgirl costume, Poison Ivy, and who I believe is Mayor McCaskill, which marks the first official Mariah Carey minifig. Ace had the exceptional idea that she should provide Batman's singing voice in this movie, presumably for his latest song.
There are also a couple of smaller sets, 70900 The Joker Balloon Escape and 70902 Catwoman Catcycle Chase. The Catcycle chase feels like a rehash of one of the first DC Superheroes sets, but it also gives us Robin, Catwoman, and Batgirl in what looks to be a fairly small set. The Joker Balloon setup is also featured in the trailer, so I have to hope it shows that heartbroken alt-face…
Up next, we get 70903 The Riddler Riddle Racer, which has got to be the most ecclectic collection of villains… ever, I think. We get the Riddler, of course, but also Magpie, Calendar Man, and Kite Man. I mean… wow. I hope some day we get Polka-Dot, Mirror Man, and Crazy Quilt. Between this and the CMF line, I'm starting to think anything could happen with this glorious series.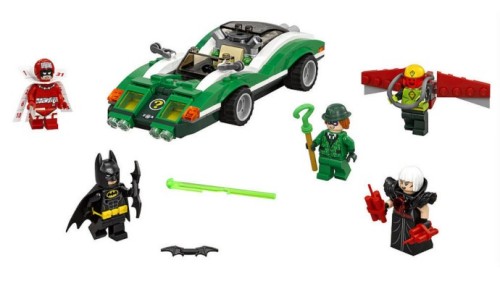 70907 Killer Croc Tail-Gator, which is already better than anything Suicide Squad had to offer us with this guy, also includes Zebra-Man and Tarantula, as well as a bigfig version of the Croc. The problem is that I still don't see a Bat-Kayak in this set.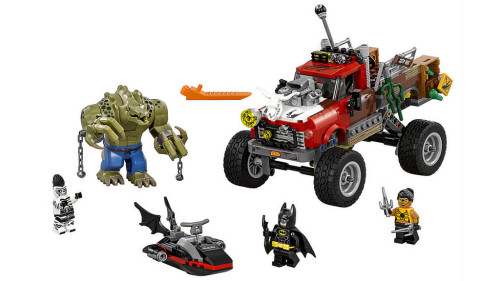 We know that there are more sets upcoming thanks to name listings, but nothing really in the way of official pictures yet. 70910 Scarecrow Special Delivery will bring us a Pizza Guy and Scarecrow, and combines with some of the other smaller sets to make a larger display from the movie. 70911 Penguin's Arctic Roller we have no details about, but every fiber of my being hopes that we're at long last getting a LEGO Zamboni.