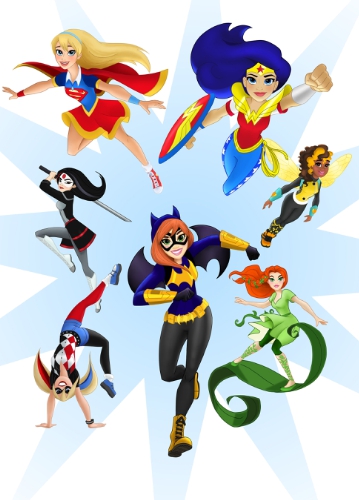 This press release just came in. In a nutshell, DC Comics is launching an initiative called DC Super Hero Girls aimed at girls to build character, confidence, and empowers them to find their true potential. Sign. Me. Up.
They've partnered up with Mattel for product tie-in and will also be partnering with LEGO. Here's the bit from the press release that's relevant:
The LEGO Group will also be key to building the DC Super Hero Girls franchise, leveraging their experience and success engaging girls in creative construction play to bolster this universe through an array of LEGO® building sets designed to inspire girls' imaginations.
After reading that, I immediately thought of Jon Lazar's Super LEGO Friends Project. Related? Inspired by? Who knows. Who cares. I just want it now. We're going to have to wait until the fall of this year though before anything comes out. DC Entertainment, Warner Bros. Animation, Warner Bros. Consumer Products and Mattel were named in launching something by then. LEGO products might come out a little later. Dare I say possibly during January 2016 product cycle? Also, it's not rocket surgery to think that this new line will use the Friends-style minidolls and, for better or for worse, color palette and be separate from the existing boy-oriented DC Super Heroes sets we already enjoy. I can't wait!
Now, Marvel just needs to get on board.
Warner Bros. And DC Entertainment In Partnership With Mattel Launch DC Super Hero Girls, A New Super Hero Universe Designed Just For Girls, Slated For Fall 2015

BURBANK, Calif., April 23, 2015 /PRNewswire/ — Beginning in Fall 2015, DC Entertainment, Warner Bros. Animation, Warner Bros. Consumer Products and Mattel join forces to launchDC Super Hero Girls, an exciting new universe of Super Heroic storytelling that helps build character and confidence, and empowers girls to discover their true potential. Featuring DC Comics' most powerful and diverse line-up of female characters as relatable teens,DC Super Hero Girls will play out across multiple entertainment content platforms and product categories to create an immersive world.

Developed for girls aged 6-12, DC Super Hero Girls centers on the female Super Heroes and Super-Villains of the DC Comics universe during their formative years—prior to discovering their full super power potential. Featuring a completely new artistic style and aesthetic, DC Comics' icons such as Wonder Woman, Supergirl, Batgirl,Harley Quinn, Bumble Bee, Poison Ivy, Katana and many more make their unprecedented teenaged introduction. Each character has her own storyline that explores what teen life is like as a Super Hero, including discovering her unique abilities, nurturing her remarkable powers and mastering the fundamentals of being a hero.

"DC Entertainment is home to the most iconic and well-known Super Heroes including Wonder Woman, Supergirl and Batgirl," saidDiane Nelson, President of DC Entertainment. "DC Super Hero Girls represents the embodiment of our long-term strategy to harness the power of our diverse female characters. I am so pleased that we are able to offer relatable and strong role models in a unique way, just for girls."

The initial launch of DC Super Hero Girls in Fall 2015 will include an immersive digital experience, original digital content and digital publishing—providing opportunities for girls to interact with characters, learn about the storylines, and engage in customizable play. TV specials, made-for-videos, toys, apparel, books and other product categories will begin to rollout in 2016.

"Developing a Super Hero franchise exclusively for girls that includes all of the key components of a comprehensive entertainment experience—from content to consumer products—is something we are excited to be doing in conjunction with our great partners," said Brad Globe, President of Warner Bros. Consumer Products. "It's really an honor to be part of this cultural moment and to be delivering a concept so rooted in a relatable and empowered theme that the characters of DC Comics are uniquely able to present."

As master toy licensee, Mattel is collaborating with DC Entertainment, Warner Bros. Animation and Warner Bros. Consumer Products onDC Super Hero Girls' narrative creation, interactive digital activations and ultimately a toy line launching in 2016. Mattel category-leading firsts include a line of characters for the action figure category, an area of the industry that has been primarily developed with boys in mind, and fashion dolls featuring strong, athletic bodies that stand on their own in heroic poses.

"Partnering with the best and being the best partner is of paramount importance," saidRichard Dickson, President, Chief Operating Officer, Mattel. "Together with Warner Bros. and DC Entertainment, theDC Super Hero Girls franchise will further expand our already powerful girls portfolio. We know Super Hero is a culturally relevant theme and theDC Super Hero Girls franchise will engage and inspire girls, providing cues to explore heroic acts through play and into real life."

The Random House Books for Young Readers imprint of Random House Children's Books has been appointed the master publishing partner for the franchise and will be creating a portfolio of books that will bring theDC Super Hero Girls world to life, beginning in Spring 2016. Random House's publishing program will be complemented by a series of original graphic novels from DC Entertainment. The LEGO Group will also be key to building theDC Super Hero Girlsfranchise, leveraging their experience and success engaging girls in creative construction play to bolster this universe through an array of LEGO® building sets designed to inspire girls' imaginations. Additionally, consumer products partners around the world will be engaged in creating a merchandise line dedicated toDC Super Hero Girls across all key categories.

About Warner Bros. Consumer ProductsWarner Bros. Consumer Products, a Warner Bros. Entertainment Company, is one of the leading licensing and retail merchandising organizations in the world.

About DC EntertainmentDC Entertainment, home to iconic brands DC Comics (Superman, Batman, Green Lantern, Wonder Woman, The Flash), Vertigo (Sandman, Fables) and MAD, is the creative division charged with strategically integrating its content across Warner Bros. Entertainment and Time Warner. DC Entertainment works in concert with Warner Bros. divisions to unleash its stories and characters across all media, including but not limited to film, television, consumer products, home entertainment and interactive games. Publishing thousands of comic books, graphic novels and magazines each year, DC Entertainment is the largest English-language publisher of comics in the world.

About Warner Bros. AnimationWarner Bros. Animation (WBA) is one of the leading producers of animation in the entertainment industry, producing and developing both CG and traditionally animated projects for multiple platforms, both domestically and internationally. For TV, WBA produces series such as Teen Titans Go!, The Tom andJerry Show and the upcoming Be Cool Scooby-Doo! and Wabbit – A Looney Tunes Production for Cartoon Network, as well as Mike Tyson Mysteries for Cartoon Network's Adult Swim. As the home of the iconic animated characters from the DC Comics, Hanna-Barbera, MGM and Looney Tunes libraries, WBA also produces highly successful animated films — including the DC Universe Animated Original Movies — for DVD. One of the most-honored animation studios in history, WBA has won six Academy Awards®, 35 Emmy® Awards, theGeorge Foster Peabody Award, an Environmental Media Award, a Parents' Choice Award, the HUMANITAS Prize, two Prism Awards and 20 Annie Awards (honoring excellence in animation).

About MattelThe Mattel family of companies (Nasdaq: MAT) is the worldwide leader in the design, manufacture and marketing of toys and family products. Mattel's portfolio of best-selling brands includes Barbie®, the most popular fashion doll ever produced, Hot Wheels®, Monster High®, American Girl®, Thomas & Friends® and Fisher-Price® brands, including Little People® and Power Wheels®, MEGA® Brands, including MEGA BLOKS® and RoseArt®, as well as a wide array of entertainment-inspired toy lines. In 2013, Mattel was named one of the "World's Most Ethical Companies" by Ethisphere Magazine and in 2014 ranked No. 5 on Corporate Responsibility Magazine's "100 Best Corporate Citizens" list. With worldwide headquarters inEl Segundo, Calif., Mattel's companies employ nearly 30,000 people in 40 countries and territories and sell products in more than 150 nations. At Mattel, we are Creating the Future of Play. Visit us atwww.mattel.com , www.facebook.com/mattel or www.twitter.com/mattel .

About Random House Children's BooksRandom House Children's Books is the world's largest English-language children's trade book publisher. Creating books for toddlers through young adult readers, in all formats from board books to activity books to picture books, novels, ebooks, and apps, the imprints of Random House Children's Books bring together award-winning authors and illustrators, world-famous franchise characters, and multimillion-copy series. The company's website, Kids @ Random (www.randomhousekids.com ) offers an array of activities, games, and resources for children, teens, parents, and educators. Random House Children's Books is a division of Random House LLC, a Penguin Random House Company.

About The LEGO Group The LEGO Group is a privately held, family-owned company with headquarters in Billund,Denmark, and main offices in the U.S., UK, China, and Singapore. Founded in 1932 byOle Kirk Kristiansen, and based on the iconic LEGO brick, it is one of the world's leading manufacturers of play materials. Guided by the spirit of its founder: "Only the best is good enough", the company is committed to the development of children and aims to inspire and develop the builders of tomorrow through creative play and learning. LEGO products are sold worldwide and can be virtually explored atwww.LEGO.com .

LEGO, its logo, the brick & knob configuration and the Minifigure are trademarks of The LEGO Group. ©2015 The LEGO Group.