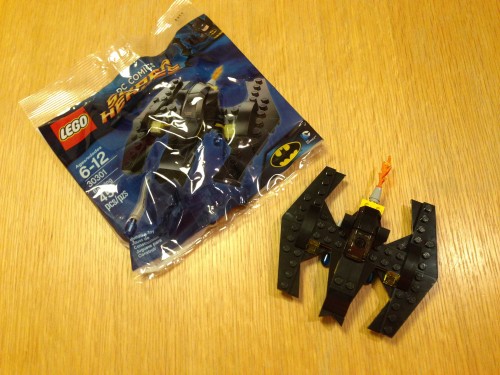 Was strolling through the seasonal section, which is set for Halloween, at Target and ran across a bunch of these Batwing polybag sets. As far as minis go, this one ain't too bad. The yellow 2×2 plate with Technic pinhole and the light grey cone making up the jet engine is a bit of an eyesore but those could easily be swapped out for black for a more Batman-esque look. It's a great little poly bag and worth the $3.99 price tag. Leagues better than that awful 30300 Tumbler. And there you have our 10 second review.
On a related note, Target is also the place where you could pre-order LEGO Batman 3: Beyond Gotham and receive this very same polybag as your bonus. And here they are just selling the darn things. Not that it really matters; I imagine most AFOLS would have pre-ordered from Gamestop to get Plastic Man.
Thanks to ninnymuggins for the heads up.