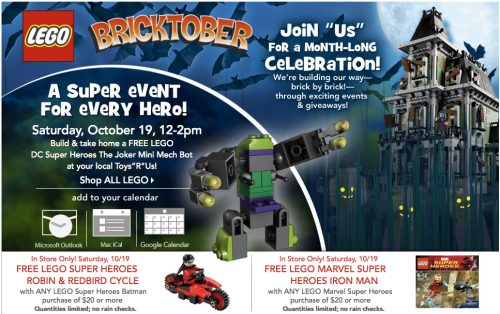 There is another Create and Take building event at your local Toys'R'Us stores on Saturday October 19th. The ad says "local" so I assume it's at most if not all TRU stores and not the select ones in IL and TX for the other Create and Take events in the past. The model this time is a DC Super Heroes Joker Mini Mech Bot. Not very exciting looking and by the looks of it, the purple plate that's protruding from its waist looks like the Joker minifig is supposed to go there, but since it's not pictured perhaps you'll have to supply your own fig. But hey, that's not such a bad thing because on the same day, if you buy at least $20 worth of LEGO Batman products, you'll get a free 30166 Robin and Redbird Cycle, polybag set. This was previously only available at Toys'R'Us Canada stores with a similar promotion.
DC not your thing? Spend $20 on LEGO Marvel Super Heroes products and get an Iron Man polybag set for free! This is the same set that was previously only available as a promotion through LEGO Shop@Home and LEGO Brand Retail stores.
The markup over MSRP that Toys'R'Us charges, affectionately known as the TRU Tax, is insane. Miraculously enough, they currently have two sets on sale for below MSRP but no telling if that price will hold come October 19th. We'll post an update the night before or the day of the event with suggestion on set you can buy so you're not feeling completely ripped off trying to get the Redbird Cycle set.