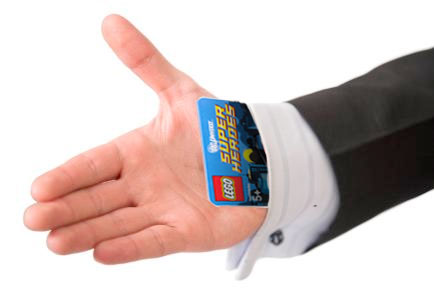 I met Juan during my search for a Black Suit Superman. He's a nice guy, family man, father of two. Goes to Comic Con every year as a family vacation. His kids are big fans of LEGO. We started comparing notes on our experiences with the minifigure giveaway. And Juan's perspective is very different than most people I've talked to in that he was not only able to score a minifig, he scored all four of the Super Heroes minifigs, including Azog.
We talked about Azog first. "You know those tables they have at the booth? I swear my son was there for about two hours just playing with the LEGOs. It's almost like having a baby sitter. I left him there to go check out some other stuff and when I came back he was holding something. I didn't even know about it, but it was Azog. I only knew what it was after I got home. I said 'what is this?' and looked at it. Then some guy offered me $200 for it and I sold it to him. It wasn't until after I got home when I saw how much he was going for on eBay I started kicking myself."
I asked him, "So you didn't see anyone hand it to him or anything like that?"
"No, he just had it in his hand. I think it might have something to do with the fact that he was just sitting there playing, you know, with the LEGOs for two hours or so."
I asked if he saw anyone else get a figure. He said no and had no idea how anyone got them. He assumed that it was because of his son playing for a good stretch of time that the LEGO booth people decided to give him one. This corroborates other reports that the Azog giveaway was a targeted effort to get the figures into kids hands. It is speculated that there are only 100 of the Azog minifigs were given away, but it wouldn't surprise me if even less were given out since so few of them have been appearing on eBay. Other than Juan, I haven't personally met anyone else who got one so it's hard determine the how, when and where they were given out.
We talked about the minifigs next. Juan said that he was lucky on Thursday. He was right up in the corner of the booth where they gave out tickets just before they shut it down. They walked away with one ticket and it was a winner. "When we got in line on Friday, we went up and got our tickets, and between the four of us, it was my daughter who got a ticket from the dude's hand. The rest of us got tickets from his bag. And it was my daughter's ticket that won. So we know what to do for Saturday and Sunday. When we went up, I asked for tickets from the bag, and all four of our tickets were winners. We did the same thing on Sunday and won four figures again."
This slightly contradicts what has been previously reported by Dan in that the winning tickets were distributed from the bag, and not the hand. Juan may have just gotten that part mixed up, but he did in fact, have in his possession four each of the Black Suit Superman and Green Arrow minifigs. With the Spider-Woman he won on Thursday and The Amazing Spider-Man he won on Friday, he decided to keep a set for himself and sell off his spares to help pay for the trip. Juan isn't exactly rolling in money and seeing him on the show floor, he doesn't give off the vibe of being a money-hungry reseller. His two kids are cute and there's no denying they make a nice looking family just out to have fun. I doubt him just buying the figures off of people on the floor with winning tickets would be something he could afford. His kids are probably the exact target audience that they are aiming for when it comes to these kinds of promotions, but that in itself is flawed. Nick wrote it right in the forum thread:
Comic-Con is not about kids. It's about adults. Adults with very nerdy habits. And everything there should be focused, primarily, at the primary customer. Kids can't even get a badge unless they're over 12. This is missing the point of the market there, and more than that, the entire event. A bad system for giving them away is bad enough, and the mishandling of it is obviously just dumb. But not understanding why the event exists in the first place is just inexcusable.
More on that point later.
It is rather odd though that the entire family got winning tickets though. I do think this is a rare case, as rare as a random adult receiving a winning ticket, as there were scores of kids and whole families who didn't win anything at all. They do only have a limited number of winning tickets after all. Perhaps the guy giving out the tickets grabbed the tickets from the wrong stack from inside the bag, or he decided to just be nice and surprise them all. We are talking about a rigged system of distribution, so if LEGO in clean conscience can knowingly rig their own giveaway, weird things like giving a family all winning tickets isn't that much of a stretch.
Juan was graced in not only winning the minifigs, but also got an Azog figure in some mysterious way. I won't get into this until another post, but let me just quickly say that I have no problems with LEGO wanting to give the figure directly to kids. Just don't waste everyone else's time by making them wait in line for hours with no chance in hell to win. More on that point later.
To Be Continued…