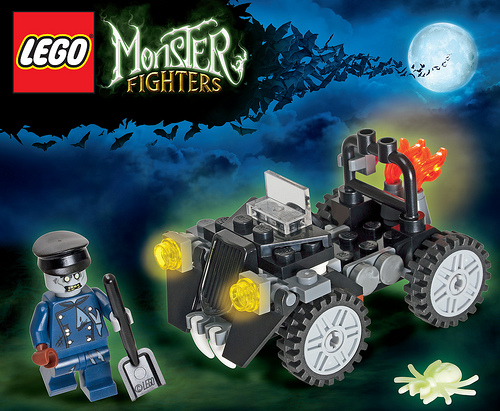 September sees a host of new products and offers from LEGO Shop@Home. Let me break it down for you:
Free Shipping: Spend $75 or more and receive free standard shipping until September 21st.
Free Zombie Car: Spend $75 or more and receive the above pictured Monster Fighters set. Offer good until September 30 or while supplies last.
10228 Haunted House now available: The cost is $179.99 but you'll get free shipping and the free Zombie car set. It's like killing three birds with one stone.
New Architecture set – 21014 Villa Savoye: You know, the last few Architecture sets have really been not sucky, you know? Not sucky as in not as bad as the first few sets. There really seems to have been a turn in the quality right around 21010 Robie House or even 21009 Farnsworth House before it. The latest entry celebrates Villa Savoye, located outside of Paris, France. Villa Savoye was built in 1931 by Le Corbusier and Pierre Jeanneret and serves as a classic example of the modern movement in architectural design. You can pick yours up today for $69.99 and get 660 pieces delivered to your door.
10212 Imperial Shuttle returns to Shop@Home: This may be your last chance to pick up the UCS Shuttle for retail. It disappeared from Shop@Home for a while but has come back. Otherwise, it's pretty much gone from the supply chain though Target seems to still have some for sale. But unlike Target, you'll get VIP points and the free Monster Fighters set.
Click through our banner or hit this link to start shopping through FBTB's landing page!