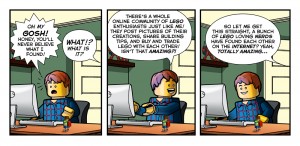 I'm sure if you're reading these words,
this scenario
has played out at some point in your life. Depending on how long you've been surfing the web while being an AFOL, you may or may not remember a little site called LUGNET. It was THE place to be to connect to others who were as passionate about LEGO. I can't remember exactly when I got hooked. I do remember, though, that I found a few links here and there in rec.toys.lego that pointed to the site. It probably wasn't until my 10th or so visit that I finally bookmarked it and made it a daily habit to check the various discussion groups. LUGNET was a great way to meet people both virtually and physically. It was there that I discovered what a LUG was and decided to go to my first LUGOLA meeting around 1999. It eventually collapsed for one reason or another. I stopped visiting the site regularly when I became more involved with FBTB and the rest is history.
Lurking is a pretty common practice. Way more people are lurking on sites reading than actually participating. I don't know what the catalyst is for a person to take the next step and out themselves online. But I hope more people can take that leap of faith and make the same discovery we all did and sign up to become a member of a fansite and maybe even attend a meeting. It makes the hobby of LEGO so much more enjoyable when you can get your nerd on face to face with real people.
---
Permalink:
http://www.fbtb.net/2012/01/11/studs-comic-2/