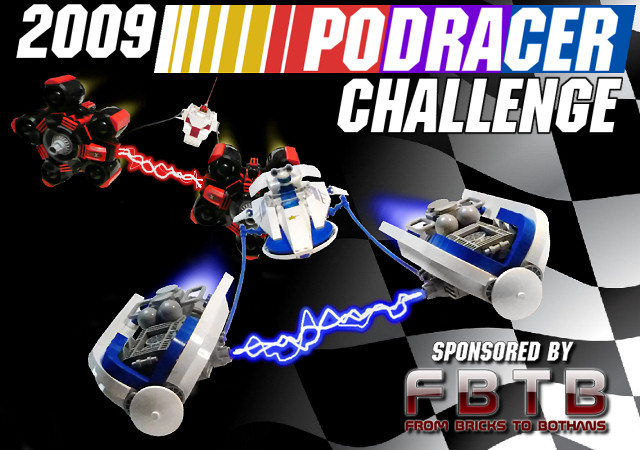 Building Tips Thread
What is a legal entry for the contest?
Stick to the standard 2 pod design with a single energy binder. You saw what happened to Ben Quadinaros at the Boonta Eve Classic. They're not banned from the competition, but they will be judged very harshly and unless you pour your soul into it you probably will crash and burn. Also, no "concept" pods where the parts are physically connected, or there is no cockpit, or it only has one engine... those styles are banned because they aren't true pods.
Power couplings/energy binders requirement:
That's right, these are REQUIRED and should be the only thing connecting your two engine pods together. How they look is up to you, but try and stick to these suggestions:
- the "beam" itself should be the only thing connecting both engines
- it should be made from transparent elements to properly simulate the look
There are many ways to accomplish this and you still have room to play, so try out everything you can think of. We wouldn't be surprised to see a "How to build energy binders" thread pop up, and we encourage that. Or you can post ideas here.
Clarification: your entry
must
be built with an actual energy binder of some sort, but you can replace it with a glowing beam effect with a photo editor in some of your pictures.
Now since this is a model, you're welcome to add a base to support them just like the official pod race sets, but make sure it's clearly a base and not part of the MOC. The less obvious the better, and if possible it should be photoshopped out of the entry picture.
Weapons note:
Now, just like the real podraces - weapons are not technically "allowed" but so long as they are concealable they can be on your model. Think of the pop out buzz saws and hidden flame throwers like Sabulba had. This is a nice bit of playability you can add that can really give your pod some character, especially if you work it into a great theme.
The purpose of this thread is to a) give the rule clarifications & answer your questions, and b) brainstorm/share tips for alternate ideas on power couplinks (energy binders) and the long connecting cables that probably not everyone has...
Further clarification: You are only allowed to enter one racer in the competition, but you can build as many as you want. Only submit the one you want people to vote for in the other thread... if you submit multiples they will be disqualified.