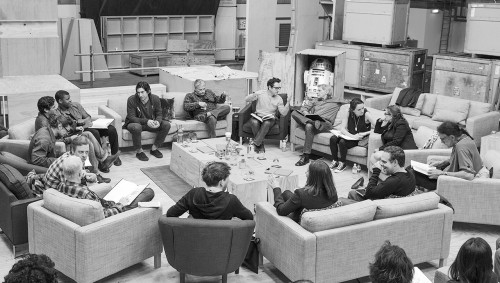 StarWars.com has announced
the cast list for Episode VII, because they are actually pretty bad at keeping secrets over there. While some places are calling it a full cast list, unless the budget for a film like this has become stunningly small, there are obviously a lot more bit and minor parts out there. For those wondering, it has most of the originals... Hammil, Ford, Fisher, Mayhew (who we knew about), Baker, and Daniels. Getting both Kenny Baker and Anthony Daniels is kind of interesting, given that Baker has made it clear that he just despises his golden buddy in real life. Conspicuously absent from the list? Colt .45 himself, Mr. Billy Dee Williams. I find your lack of Lando disturbing...
John Boyega, Daisy Ridley, Adam Driver, Oscar Isaac, Andy Serkis, Domhnall Gleeson, and Max von Sydow all join the original cast. I wonder what sort of alien Serkis is going to play for the motion capture... because he never gets cast as himself. The rest I really don't know, and have no real opinions on who they are. The original featured unknowns, save Alec Guinness and Peter Cushing, and that worked out, so who knows. Thoughts? I'm sure we'll be awash in more info as the Dec 19, 2015 release date creeps closer. 
---
Permalink:
http://www.fbtb.net/2014/04/29/cast-list-for-episode-vii-announced/