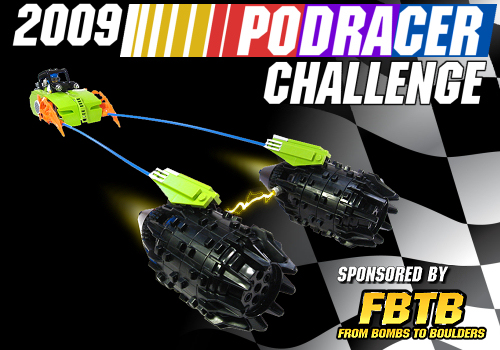 Put simply: Build a Podracer.
More specifically, you are to build an original podracer; one that was not seen in Star Wars (including EU sources). You can use existing pods as
inspiration
, just don't make a direct reproduction or simply put a new color scheme on one. Now the kicker: they don't necessarily need to be Star Wars themed - they just have to fit the Star Wars mold. Confused yet? Lemme explain with some examples... you can make a Dukes of Hazzard pod, a steampunk pod, A Blacktron II pod... so long as it's a pod racer, it's good. The key is to be original.
And for the double kicker: fan themes are welcome and encouraged! Grand Admiral and Fazoom were both kind enough to toss in their hats and build some excellent example entries in their respective themes (PCS and 3vil) - which should give you a good idea of the goal here.
Rules:
- It must be "system" scale and have a minifig or brick built alien pilot.
- Physical models only, with no modified or unofficial parts (official stickers can be cut).
- Post a single picture in this thread with a link to your gallery and discussion page to enter.
- Add the tags
"FBTB"
and
"2009 Podracer Challenge"
to your entry photo on Flickr and submit it to the FBTB Flickr Outpost.
Note: Your entry picture
must
be posted on Flickr, tagged with "FBTB" and "2009 Podracer Challenge", and submitted to the FBTB group to qualify. It's important to use the quotes when adding the tags or it will split them up. Please
only tag the main picture with "2009 Podracer Challenge"
so all the entries are easier to browse together. If you do not have a Flickr account: you can set one up for free, or ask another member to host your entry picture for you. If it is not in the FBTB pool or tagged appropriately
it will not count
. I'll be checking entries and giving tips but it's up to you to make use you follow the rules.
Please read the Building Tips thread for more details and clarifications on what makes a podracer a legal podracer.
Judging:
We're going to try something a bit different here, which should make this interesting... the plan is to make it feel like a race - but it's a very complicated scheme and will rely on how many entries we receive and how many members are active at the end. More details will be disclosed when the time is near, but be prepared to vote several times in the forum.

Prizes:
(Provided by the illustrious Onions the Hutt)
1st Prize: Vader's Tie Anniversary Edition, Chrome Vader, and Chrome Threepio
2nd Prize: Chrome Vader
or
Chrome Threepio - your choice
3rd Prize: Chrome Vader
or
Chrome Threepio - whatever the 2nd prize winner didn't choose.
The deadline for entries is April 1st 2009 by 11:59 PM PST
-That's a whole month away!