Ever since Lego began making Star Wars items, I've been planning to do a custom job for a character I loved very much when I was younger. Jodo Kast, for those who don't know, is the Mandalorian bounty hunter who was used in West End Games instead of Boba Fett, since he was generally thought to be deceased at the time.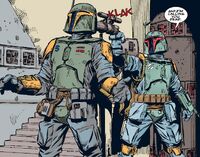 (note: the chest logo should be red, not blue.)
Kast's ship is a heavily modified Imperial Shuttle.
I have just purchased the Lego Imperial Shuttle (7166) and about $40 worth of spare parts in gray and dark gray. I have a pretty good idea of how I'm going to do the build, though I may end up having to sacrifice two of the four engines beside the middle wing, since the lego pieces are a bit too thick to pile all 4 on there properly.
I have a generally good idea of how I'm going to do the ship---like I said---but here are my four obstacles:
1.) The guns on the wings that look sideways. It seems like they should rotate, and I don't know what to do. They'll probably be absent in my first "draft" of the model.
2.) The logo on the wing. I'd like to do a decal, but I don't have the money to buy a specialized printer just for this one project.
3.) Like 2, I need to customize a Boba Fett minifig. I'm planning to use the new one from 8097.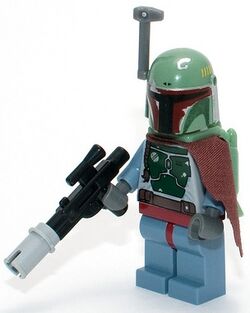 I'll replace the arms and legs with grey ones, but doing a decal for the chest logo seems like it will be difficult as it needs to cover up Fett's corresponding logo. Also, changing the visor to orange seems like it could be hard considering the curves in the helmet. I'll replace the head with a Jedi Knight Luke Skywalker, since Kast was blond and rarely smiled.
4.) The hinge piece holding the windshield. I can't find a piece like that in grey or dark grey. Even if it didn't have the detail on it and was just a solid color, I'd prefer that, since I'm getting rid of all of the white bricks in the set and using a mostly light grey, partially dark grey theme.
Any advice would be appreciated! Or if anyone would be willing to help with the decals, I'd gladly reimburse you for the materials.