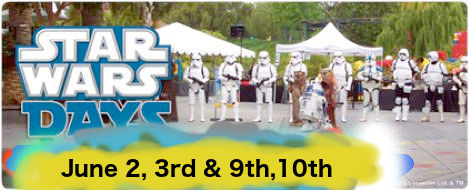 Live in Southern California? Looking for something to do this weekend? LEGOLAND California has you covered with their annual LEGO Star Wars Days happening this weekend starting tomorrow Saturday June 2nd through Sunday June 3rd. This is the first of two weekends as LEGOLAND saw fit to expand the experience beyond the single weekend of yesteryears.
There are tons of LEGO Star Wars-themed activities to do at the park on top of all the existing rides and attractions:
Family Build Challenge – Teams will be given a theme to create a LEGO® model. Race against the clock to finish and the best team creation wins!
Miniland Scavenger Hunt – Find answers to trivia questions within LEGO®Star Wars™ Miniland inside the brick built live-action Star Wars™ movie scenes.
Star Wars Costume Contest -  Dress up as your favorite Star Wars™Â character. Three winners daily will receive a special prize package!
Character Meet and Greet – Meet your favorite characters from a galaxy far, far away!
Droid Hunt with Costumed Fan Group – Imperial personnel who see your Droid™ Hunt badge and ask you "How long have you had these Droids™?" will hand you a raffle ticket for a chance to win a prize!
WB Games Family Gamespace featuring LEGO® Star Wars™ video games – Families will experience gaming like never before with games for everyone to play together. Come defend the universe in a friendly intergalactic battle.
Use The Force blindfold challenge – Compete in pairs as one team member is blindfolded, and the other describes to them how to build a mystery LEGO Star Wars™ object!
Landspeeder™ Build & Test – How would you design your Landspeeder™ to maximize its velocity? Build it here and then race it against everyone else's…and if you don't win, build and test a new one!
LEGO Star Wars™ Fan Gallery – Check out impressive LEGO Star Wars™ models and photography created by fans just like you!
Speed Build Competition – Spectate as LEGO Star Wars™ fans race against each other to build a LEGO Star Wars™ scene…who will win?
LEGO Star Wars™: The Freemaker Adventures – Catch special screenings of season two of LEGO Star Wars™: The Freemaker Adventures, at LEGO Star Wars™ Days only!
LEGO Star Wars™ Days exclusive giveaways! – Young Jedi™â€¦ be sure to pick up your collectibles on the Model Shop Rooftop while supplies last.
The Fan Gallery is the small portion of the weekend that I help manage. Members from two local LEGO User Groups will be showcasing their creations in a variety of categories. They do not disappoint and dare I say worth the price of admission alone. Come join in on the fun!