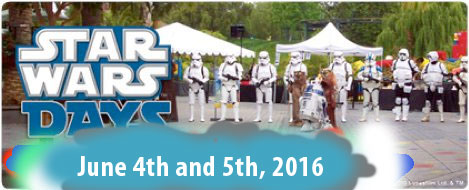 Hi Everybody.
Just a quick update to let everyone know that I sent the email out to registered builders for LEGOLAND California's Star Wars Days event coming up on June 4 and 5, 2016. If you registered or think you registered and did not get the email, contact me directly if you know my email address or use the contact us form to send an inquiry. Email will be the primary source of communication going forward for the registered builders so please keep an eye out for a message from me in your Inbox/Spambox/Hitbox/Redbox/dog house and outhouse.
The email has a ton of information in it including hotel discounts, prizes, and a bunch of other important stuff.
If you're not a registered builder and would like to partake in the weekend's festivities, come and enjoy the park as a guest. There's a ton of things to do. Besides viewing the AWESOME Fan Gallery with a ton of original LEGO Star Wars MOCs on the Model Shop Rooftop, the 501st will be on hand and will be doing their popular Droid Hunt event. There are costume contests, trivia contest, they may bring back the best Wookiee gargle impression contest. It's a great time for the entire family, especially if you or a family member is a Star Wars nut. Since last year's event, the park opened up two new attractions. One based on Friends and the other based on Ninjago.
Come join us for a great weekend at LEGOLAND California on June 4th and 5th, 2016.