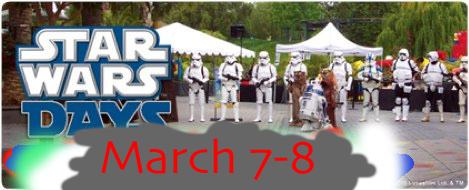 All the info you need on how you can participate in this year's Star Wars Days held on March 7th and 8th at LEGOLAND California is right here. It's about 95% complete with a few loose details to come later with the sign-up sheets. There is a ton of info, so please read the post carefully and post or email any questions and/or comments you may have.
Participation and Incentives
We are handling the distribution of the incentives a little differently this year, tying them directly to how you participate. There two ways you can participate, either by volunteering time or building and bringing a MOC.
Volunteering time means you man the gallery space and keep an eye on the MOCs and answer any questions (to the best of your abilities). You'll be expected to volunteer for 1 shift for four hours. Space is extremely limited. The sign-up process will be detailed later this week.
For volunteering time, your incentives package will be as follows:
– A Star Wars Days 2015 T-shirt (final design is yet to be revealed).
– Entry to the park for the day of your shift.
– Lunch for the day of your shift.
The other way to participate is to build and bring a MOC. We are having several themed categories that can you can build for, five in all: Empire Strikes Back Vignettes, Star Wars Comic Bricks, Star Wars Cube Dudes Dioramas, Evolved Starfighters, and the General category. More details on the category themes in a bit.
For building and bringing a moc, your incentives package will be as follows:
– Entry to the park for both days.
– Lunch for each day.
– The exclusive minifigure (yet to be announced).
– Discount coupon for The Big Shop (should be the same as last year: 20% off of up to 5 items).
– A pair of complimentary passes to the park for future use, up to 1 year from the date of issue.
No, you don't get a shirt if you bring a MOC. To get everything you'll have to do both. The reason we are changing it this year is because last year all one had to do was to volunteer time to get all of the goodies. And because of that we've had an influx of volunteers, more so than I knew what to do with. It was a good problem to have but at the same time our MOC display suffered a little. So we are putting a heavy emphasis on MOCs this year stacking most of the incentives in that area versus volunteering time. You will still get some perks, but the bulk of the rewards should go to those that put in time and effort building something over the next two months rather than to those who show up and man a table for two hours.
To further incentivize (yes, that's a word) you to build and bring a MOC, we will be awarding prizes for the best MOCs in each category. On Saturday we will have the volunteers and builders vote for their favorite builds in each category. The votes will be tallied up Saturday night with the winners announced Sunday morning. Each category winner will receive a $100 LEGOLAND gift card (except for the General category winner who will receive a $50 gift card) and an additional discount coupon to The Big Shop. In the event of a tie, will have the front runners do a one-handed speed build of 75060 Slave I while blindfolded. Just kidding. In the event of a tie, the category director will cast the tie-breaking vote. But wait, there's more! There will be a Best In Show award. A high-ranking LEGOLAND employee will choose her favorite model out of all MOCS on display on Sunday morning. The Best In Show award will receive $100 gift card and an additional discount coupon for The Big Shop. That's over $500 in gift cards to be given away for building a MOC and bringing it to the show.
MOCs will have to be set up before 9am Saturday morning and can be picked up Sunday evening as the park closes. We will have sign-up sheets announced later this week.
Now, about those categories:
Empire Strikes Back Vignettes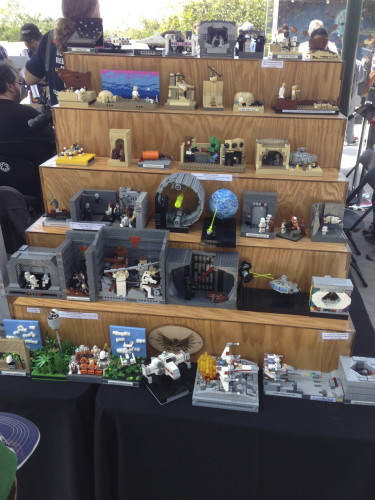 Category Director: Peter Abrahamson
Much like the A New Hope vignettes we displayed last year, this year we are doing the same but shifting the movie focus to The Empire Strikes Back. We've set up a google spreadsheet where you can enter all of the relevant information of the scene you'd like to build. If your scene falls in between two that are listed, just right click on a row and add a row above or below for your scene.
This year, we are changing some of the build requirements. While some of the builds were tall and awesome, it was difficult to place them in chronological order because they were too tall for the stepped display stand and blocked some of the MOCs behind it on the upper tiers. Vignettes should be 12studs x 12studs and no more than 15 bricks tall, and this includes the 1 brick tall base for the scene nameplate. If you'd like to build big, build long and in increments of 12 studs. And lastly, please do not have any overhang, that is, don't let any part of your MOC hang over the edge beyond the 12×12 footprint. If you must have some overhang, please try and limit it to hanging over the front of the MOC above the name plate. Ideally we would like to (loosely) connect the MOCS side by side.
Star Wars Comic Bricks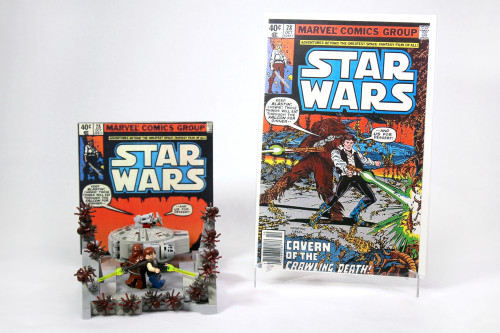 Category Director: Brandon Griffith
Making its debut at Designer Con, Comic Bricks was an instant hit and we are bringing the theme to Star Wars Days. Build a diorama of a Star Wars Comic Book cover. It can be from any of the Marvel or Dark Horse Star Wars Comics. With the rich legacy of Star Wars comics from the past and a brand new series from Marvel starting this month, your options are endless. Here is a set of guidelines to follow when building your Comic Brick:
Guidelines:
1. Model should not be bigger than a comic book. The idea is to have a copy of the comic book beside the model and for the model to represent the cover as accurately as possible. To see examples of previously built covers check out www.comicbricks.com.
2. Sign up which cover or covers you will be building on the signup sheet coming later this week. You will need a copy of the comic book you are building to participate. If you do not have a copy of the comic book, let Brandon know by Feb 22nd what comic cover you are doing an he will get a copy or print out the cover. HOWEVER, there MUST BE a copy of the cover (printed by Brandon) or the actual comic beside your MOC to participate in this category and be eligible for the prize. If you do not register your Comic Brick on the signup sheet coming later this week and show up with a model and no comic book, it will get moved to the General MOCs section. Again, if you don't have copy of the comic, no big deal, just let Brandon know so he can get you one.
2. http://www.rebelscum.com/comicbooks.asp is an awesome reference. There are links there to all the Marvel and Dark Horse issues.
3. Model does not have to be minifig scale. Bricks-of-character, Bionicle, sculpture, all is good.
Star Wars Cube Dudes Diorama
Category Director: Jason Daubert
Cube Dudes seems to have faded off into the sunset but we are bringing it back for this year. Not familiar with Cube Dudes? This Brick Blogger post should explain everything to you. There's also the above video featuring the father of the Cube Dude movement, Angus MacLane. Just remember: 3studs x 3studs brick head (~12-15 plates tall) on top of a 2stud x 3stud brick body (~13 plates tall including neck, not including the arms). Search for Cube Dude on flickr and you should find enough samples to get an idea. Build a small diorama (ideally around 16studs x 16studs) to complement your cube dude and you're set.
Evolved Starfighters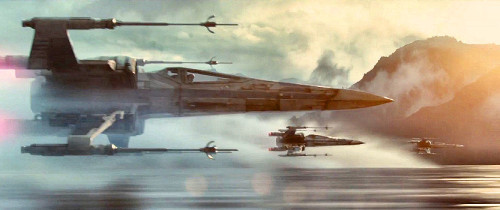 Category Director: Don Solo
We were debating about having an Episode VII category but scratched that idea because it seemed like it would be way too open for interpretation. So we combined it with an equally generic-sounding category, Starfighters, and came up with what it is now: Evolved Starfighters. We've seen the trailer for Episode VII and while the changes to the X-wing Fighter weren't that obvious, they are there and there are enough differences to make it distinct. So, the idea of Evolved Starfighters is to take existing designs and evolve them to the next version, whatever that may be. The evolutionary differences can be subtle to the opposite of subtle.
The General Category
Photo by Hao
Category Director: Ace Kim
We recognize that the above categories may not float your boat or you will be inspired to build something that can't be shoehorned into what we've outlined above, so that's what the General Category is for. Go crazy, go big, go think outside the box. No restrictions in this category except, of course, it has to be Star Wars related.
And this should go without saying, but unfortunately still needs to be said. This is an event for LEGOLAND celebrating Star Wars and the LEGO brick. Please refrain from using clone brand bricks and elements in your MOCs. Also, please bring Star Wars-themed mocs that are recognizably Star Wars. Bringing a mech and saying it was Anakin's Mech from an alternate universe isn't going to cut it. Don't bring official sets and don't bring official sets modified by swapping out a couple of pieces and calling it a MOC.
We will have sign up sheets and more information up later this week. You can build and bring as many MOCs as you want for as many of the categories as you want, or put all your effort into one single model. It's up to you. We realize that March 7th and 8th is right around the corner, but the categories were intentionally created to produce small- to medium-sized builds and there's 8 weeks to go before the show. We hope to have a great turnout of MOCs this year and hope that the incentives and the gift card prizes are enough to get everyone's creative juices flowing.
Stay tuned for more information. Again, if you have any questions or comments, post to the forum or send me an email using our contact form.