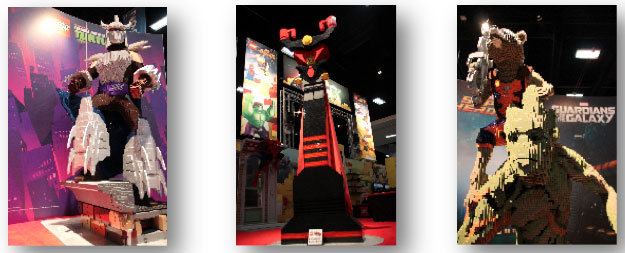 Fan Expo Canada is happening THIS weekend starting Thursday August 28th through Sunday August 31st at the Metro Toronto Convention Centre. NOT this past weekend. Of course, *I* wouldn't make THAT mistake… mixing up dates like that…. From what I've heard/read, it sounds like the San Diego Comic Con of the Great White North so it sounds like a FANTASTICALLY crowded good time!
LEGO sent over a press release detailing their presence at the convention and there are some interesting things to note.
The first ever public screening for Beyond the Brick: A LEGO Brickumentary will happen on Saturday August 30th at 5:00pm in Room 710A in the south building of the Metro Toronto Convention Centre. The film was supposed to be released earlier this year (IMDB still has the release date pegged at April 20, 2014). Space will be limited so get there early. For more information on the film, visit the film's site. To view a trailer, visit WSJ.com.
They are also doing themed giveaways on each day of the Expo starting on Friday. Friday will be Star Wars, Saturday will be The LEGO Movie, and Sunday will be The Hobbit. These are NOT exclusive items. Put another way, these are not the minifigs that were given away at San Diego Comic Con. They are, instead, hard-to-find promotional items related to each of the three franchises.
And just like at Comic Con, they will also be selling an exclusive set: a Chibi-fied version of the Ghost but this time you get Kanan Jarrus instead of Chopper. Not attending? There's still a chance to win via the Expo's contest page.
There is a line in the press release that says the following: "Newly launched in Canada try out the LEGO CHIMA FIRE CHI Augmented reality APP." I found it odd that it would say "newly launched in Canada" so I did a search on the iTunes store to no avail. So it may actually be region-locked to Canada only (unlikely) or the app isn't publicly available yet (more likely).
There is a free build area where visitors are encouraged to build their favorite super hero emblem and put it on display.
And finally, they are touting a photo station where you can take your picture with Smaug. This is probably the Smaug statue that was on display at the Warner Bros. booth at San Diego.

In addition to Smaug, they will also have a bunch of the same statues from San Diego Comic Con around their booth. Pictured in the press release was the Shredder, Lord Business, and Rocket and Groot statues.
Full press release is below:
FIRST PUBLIC SCREENING OF BEYOND THE BRICK: A LEGO BRICKUMENTARY TO BE HELD AT 2014 FAN EXPO CANADA

– LIFE-SIZE LEGO® MODELS, EXCLUSIVE PRODUCT OFFERINGS AND ACTIVITIES WILL DELIGHT ATTENDEES OF ALL AGES-

WHAT: Providing the perfect backdrop for on-site filming and interviews, The LEGO Group will feature hands- on activities, life-sized LEGO® models and a film screening for attendees of 2014 Fan Expo Canada.

LIFE-SIZE VISUALS IN THE LEGO BOOTH:
• A wide variety of popular franchises will be showcased via one-of-a-kind, life-sized models made completely out of LEGO bricks by LEGO Master Builders – including Star Wars™, BATMAN™, Guardians of the Galaxy, Teenage Mutant Ninja Turtles™, THE HOBBIT™ and THE LEGO® MOVIE™! Follow the official hashtag #LEGOFanExpo.

ADDITIONAL ON-SITE VISUALS AND ACTIVITIES:
• First public screening of Beyond the Brick: A LEGO Brickumentary:
o DATE: Saturday, August 30
o TIME: 5:00pm
o LOCATION: South Building of the Metro Toronto Convention Centre in Room 701A
• LEGO Giveaways (while quantities last) each day from the following franchises:
o Friday –Star Wars
o Saturday – The LEGO Movie
o Sunday – THE HOBBIT
• Exclusive LEGO Star Wars The Ghost™ Starship sold only at Fan Expo Canada
• Newly launched in Canada try out the LEGO CHIMA FIRE CHI Augmented reality APP
• Build your own Super Hero emblem and put it on display for all to see!
• Photo station with Smaug from THE HOBBIT on display for limited hours Friday and Saturday. Take your photo for a chance to win two tickets to the movie screening in December!

WHO: The LEGO Group, world's leading construction toy manufacturer

WHEN: Starting Thursday, August 28 at 4pm through Sunday, August 31

WHERE: Metro Toronto Convention Centre, Booth #748