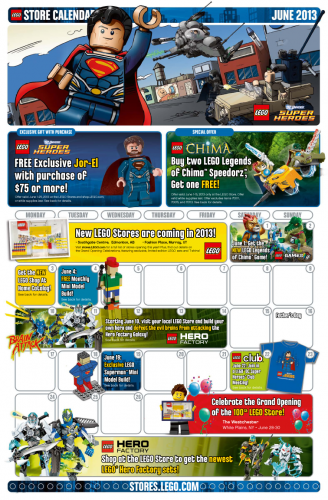 Some details have emerged about obtaining the Jor-El minifig we reported on earlier this week. This post on Eurobricks shows the June store calendar with Jor-El displayed as one of the highlighted items. It will be a LEGO Brand Retail promotion and the only way to get it is to make a purchase in store or at LEGO Shop@Home for $75 or more. There's nothing listed about the purchase requiring Super Heroes sets, so any purchase should net you the minifigure. Offer is good from June 1-25 or while supplies last.
There is one other item of interest on the calendar. On Wednesday June 19, they will be hosting a special in-store building event where you can build the Man of Steel. This is in addition to their regular Monthly Mini Build. Build event is open to kids age 6-14 only and limited to approximately 150 per store.
And finally, on Friday June 22, the monthly LEGO Club meeting will be DC Super Heroes themed.