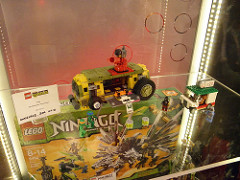 With New York Comic Con 2012 came the debut of a new TMNT, Marvel, and DC set. Here's what I thought of each!
I am not a Ninja Turtles fan. I don't dislike it, I just don't have any feelings toward it one way or the other. That being said, this set has me excited for a couple of reasons. First, that pizza delivery truck is awesome. It reminds me of the Joker ice cream truck from the original Batman line. Those are some awesome stickers. Second, this looks like a terrific parts pack. The roof and various other bits are olive green! Can I get an "Ooh-rah!" From the reference pictures, it looks like this would have been good done in tan or dark tan rather than yellow, but I think yellow helps really make it pop against the muted olive green while also bringing out the details. Looks like there are a couple of other good new parts like the red trashcan and gunmetal bumper elements. I can also appreciate the minifigs, which are really nice. Not sure what else they can be used for, but I love the new Ninja Turtle parts. They fit right in with the LEGO aesthetic. It looks like something fans can really get excited about, and us non-fans can at least appreciate new colors and parts.
76005 Spider-Man's Daily Bugle Showdown
Another Ultimate Spider-Man set. I'm mainly a fan of the Raimi movies (which I know isn't by any stretch the original), but this new interpretation based on the cartoon series is interesting. Nice, clean, and cartoony. We're getting four new minifigures including J.J. and Dr. Doom! Awesomesauce. I like all the details like the corkboard about Spider-Man's identity. Price isn't bad. It looks like a lot of solidly brick-built construction. Always good to get hefty solid buildings, and this is a lot better than the dinky bank from the DC Two-Face set. They really managed to get that New York feel with the fire escape and dumpster. Definitely going to pick it up when it comes out and stick it in my cityscape. Now we'll have had Spider-Man twice. Hoping for some X-Men set reveals in the near future, or that Nick Fury set.
76001 The Bat vs. Bane: Tumbler Chase
What a clunky name for a set. This is based loosely on the Dark Knight Rises, which will probably be on DVD by the time this set is out. We were treated to a preview of the minifigs at SDCC, and boy do they look even better in person. This is the best possible selection of minifigs I could ask for. Gordon is my favorite character, plus you can't go wrong with Batman and TDKR edition Bane. The vehicles kind of suck though. I'm a huge fan of the Tumbler design. I even designed my own after disliking the one from the original line. Then after TDKR I made a camo version to go along with it. Both were on display at the NYCC I LUG NY fan display over the weekend. I was curious to see an official Tumbler after having made two of my own. Man…
I realize they had to hit a price point where I didn't, but come on! It looks so bad. It's actually not too under scaled, but aside from the wheels being generally in the right place, it looks nothing like the tumbler! There should have at least been some brown in there to give it a camouflage pattern. No idea why they made the stickers look like the car has its own re-breather just like Bane. What the heck were they thinking? Absolutely ridiculous.
"The Bat" is competent, but what's with the blue? Didn't we just get that fixed in Star Wars? Now we finally get properly colored TIEs, but the Bat gets the old black and blue treatment? It's an easy parts swap back to black or dark bley, but I don't even think that's worth the effort. The model is barely accurate, and it really makes me want to make my own rendition. The cockpit is way too boxy. It would be really cool little ship in a generic space theme, but here it just feels wrong. I realize these vehicles are hard to both replicate accurately and keep them playable and at a reasonable price, but I think they could have done a lot better. They're like chibi-stylized versions. But I admit it… The minifigs are totally awesome so I'll be buying them anyway.
79000 Riddles for the Ring
Pretty straight forward this one. Bilbo and his little boat, plus a new Gollum and his cave. That's about it. Price is pretty good. Bit of a glorified impulse set, but I'll pick one up.
79003 Unexpected Gathering
Not a new reveal, but it was there. Based on a scene that was present in the trailer, it looks accurate enough. I love the SNOT work on the doors and windows. Looks like a LEGO Hobbit hole should. Nice selection of minifigures and parts too. Just wish it wasn't so expensive.
79010 Goblin King Battle
I don't have much reference to the film as it hasn't come out yet, but this set looks really cool. The troll king is pretty goofy looking, but the rest is pretty slick. The set is cluttered and slipshod, but everything looks like it's done on purpose. It's a clean dirty… if that makes any sense. Looks like a place a troll and his minions would live. I'd reckon this will be a fun build. The new orc guys are sweet, as are the dwarves. Those are all exclusive to this set. It's shaping up like we'll have plenty of Gandalf minifigs to go around. This is my favorite Hobbit set I've seen thus far.