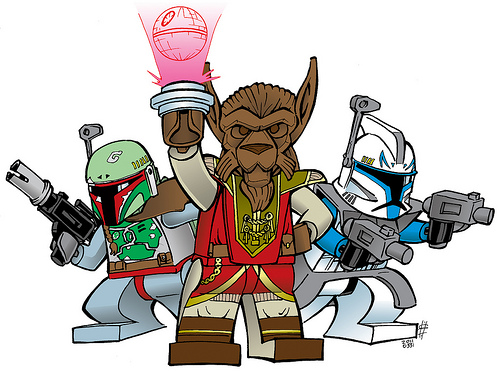 I'm here with a few updates to our BOTHCON2011 plans. First up, REMINDER: if you're participating in the Fan Display to start mailing those MOCs in. I sent a private message on the forums to everyone who's responded in this thread with instructions. The sooner we get your models the better chance it has on making it onto a display table. We have a deadline to send LEGOLAND info on how much space we need so the sooner I have those numbers the better.
Next: the goody bag. As reported before, you'll get:
A reusable LEGO Star Wars vinyl tote bag.
A Jon Palmer M-wing Starfighter Kit.
A Bothcon 2011 T-shirt with artwork by Greg Hyland (pictured above). These are high-quality, screen printed, American Apparel t-shirts.
Now for the new stuff:
A commemorative BOTHCON2011 Minifig pilot for your M-wing.
1 copy of 30054 MINI AT-ST
A (practically vintage) 2005 LEGOLAND CA Star Wars Weekend DUPLO Brick.
Each bag will also randomly contain one of the following:
3219 MINI TIE Fighter
OR
30050 MINI Republic Attack Shuttle
OR
30051 MINI X-wing Fighter
Pretty epic bag if you ask me. Now for the other bit of news. We have 13 registered members so far and the cap was at 20 registered members. We are lowering the cap to 15 members, that leaves 2 slots open. We are also cutting off registrations soon. The deadline to register is 11:59pm Saturday May 28. It's $25 (in addition to the cost of getting into the park). All the information you need is in this thread.
Questions? Post in any of the Bothcon threads in our Community forum: Fan Display or Minicon