Back in March when we posted the info for Star Wars Days, you may have noticed "Themed Speeder Bikes" among the build categories, and anyone registering MOCs for the event would have seen a note that we were planning a contest… which for various reasons we've put off longer than planned. But procrastination be damned, it's time to get this show on the road! Just to be clear, this contest isn't limited to Star Wars Days attendees, it's open to everyone as with all our contests – but we welcome you to bring your bikes down to Carlsbad next month if you have the opportunity.
The Challenge: Pick a pair of non-Star Wars minifigs and build them some themed speeder bikes.
That's right, we're opening this up to any other existing Lego theme besides Star Wars, licensed or otherwise. Choose two related figures (minifigures and bigfigs welcome, you can even use a creature too so long as your second rider is a standard minifig) and build each of them a custom speeder bike. They can be a team or rivals, but they have to be from the same theme and their bikes must be distinct.
And as another twist, you can submit up to three separate entries this time (three pairs of bikes). But you can only win once, so if you happen to sweep the ranks you'll just get the top prize you've earned and the next contestant(s) after yours will be bumped up.
Speeder bike design requirements:

A pair of steering/control vanes.
Handlebars for the rider.
A rider.
That's it. We're loosely basing this off the classic bikes in Return of the Jedi but there are plenty of other variations within the Star Wars canon like swoop bike Anakin borrowed in Attack of the Clones and the BARC speeders from Revenge of the Sith and Clone Wars,  so don't feel tied down to one design. As long as you abide by the design requirements above and it feels like a speeder bike, you're good to go. Maul's speeder from The Phantom Menace, for example, lacked control vanes so it wouldn't pass for this contest. Rey's bike skirts that rule, but I've convinced Ace that the "rear stabilizer vanes" count as control surfaces. So just be sure to make yours obvious and you won't have to worry. We're looking for creative ideas, not just a bunch of recolored  74-Zs.
To clarify the "vane" requirement, here are some official sets that would qualify: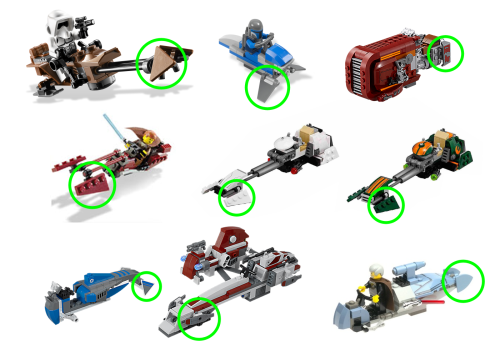 Those circled features are important. Everyone understand now? OK. Happy building.
Standard Contest Restrictions:
No unofficial or modified parts allowed.
No pre-existing or virtual models.
No changes allowed after the deadline.
Do not base your models on any official sets.
How to Enter:
Post your entry in the contest thread before the deadline, which is 11:59PM PDT Monday June 6th 2016. That's exactly four weeks from now (assuming the post is scheduled correctly).
The first photo in your submission needs to show both bikes with riders, because that will be the image used in the polls. You can include up to four other photos in the post and a link to a gallery with more if you wish.
You must use Flickr to host your entry pictures because we rely on the built in image resizing feature. If you do not have an account you can sign up for free, or ask a friend with a Flickr  account to host them for you. Once uploaded you will need to embed your photos in the forum. Here's a quick visual guide on how to copy the correct code for the forum. Follow that, then paste it into your reply and do not add any more forum tags to the Flickr code. It works as is. Preview your post to verify that it worked before submitting it. If it didn't work, PM Solo.
Please do not post any non-entry photos to the contest thread, and remove any embedded images if  you quote a submission to avoid cluttering the thread. You must have a forum account to enter. Entries by proxy will be not be allowed.
Photography note: be sure to submit the best pictures possible. Color and contrast correction is recommended if necessary. The only other image enhancement allowed is replacing the background with either a solid color or simple gradient. Your photos cannot be altered in any other way. For example; no composite views, special effects, text, graphics, or scenery will be permitted. Remember, the contest is about the models – not your image manipulation prowess. If you wind up submitting your model to Lego Ideas after the poll has ended, you're obviously welcome to further enhance your photos however you wish.
Winners will be determined in a single week long poll following the deadline.
Prizes:
The top three entries will each receive a polybag The Force Awakens C3PO minifig, and the number one ranked entry will get a 75094 Imperial Shuttle Tydirium because it's sort of related since they went to Endor in it and there were speeder bikes on Endor and there aren't any good sets with speeder bikes to use as a prize right now. Yeah.
Also, if you happen to build a Power Miners themed pair and they make it into the top three, Ace will make it worth your while. Depending on the turnout we may throw in a few more surprise goodies along the way, so stay tuned.