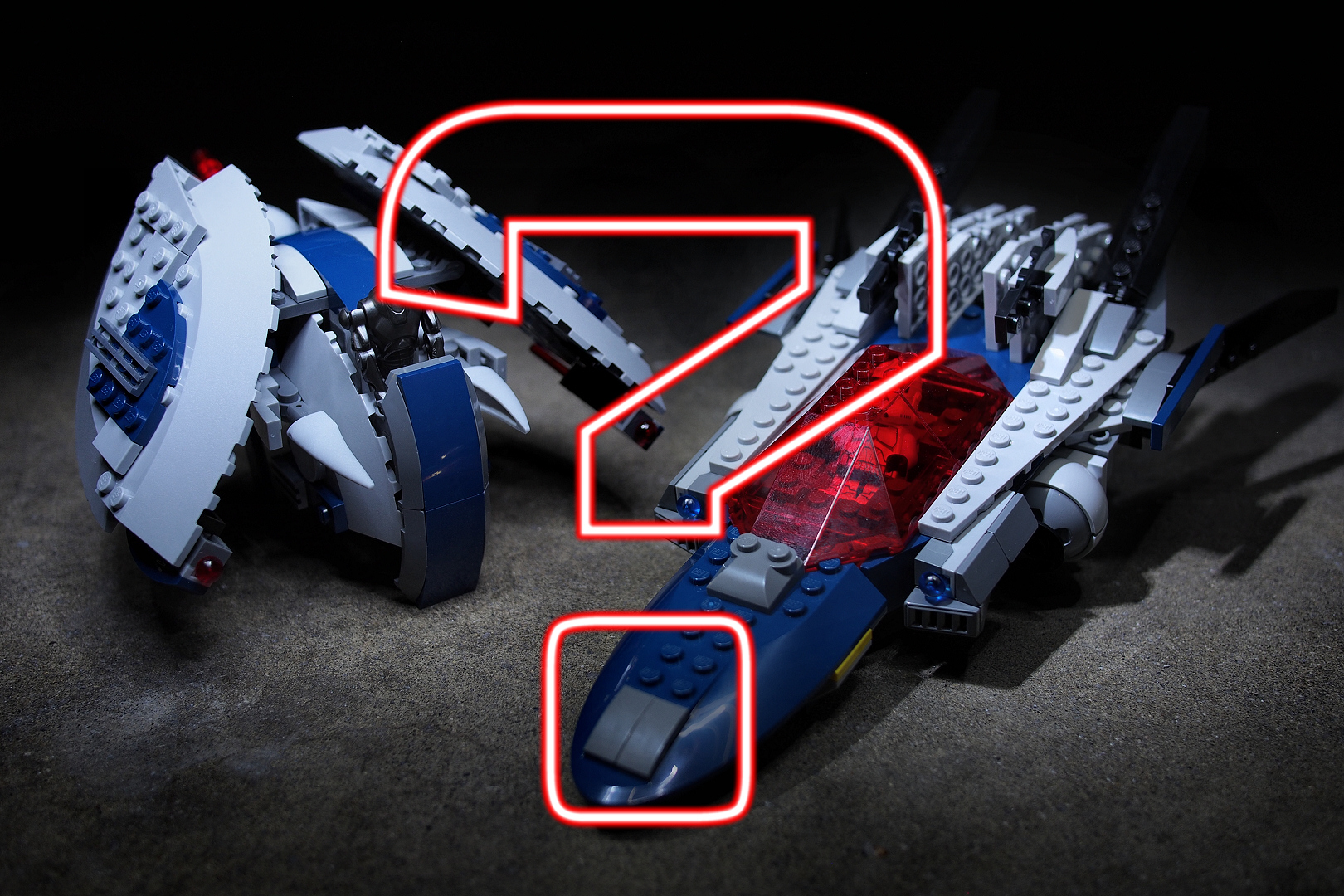 It's been a while sine we wrapped up our last contest and quite a bit longer since we had an alt model as a challenge, so we thought now sounds like a good time to address both. The goal here is simple: pick up either a 75042 Droid Gunship or 75046 Coruscant Police Gunship and using only parts from the set you've selected build a new ship or vehicle by the end of the month. Hit the jump for some specifics and to find out what prizes are in store.
Thinking back, it's been years since we've hosted a contest like this here on FBTB. I actually got back into building when someone started a B-Wing alt model contest on the old forum. We've wanted to set one up for a while but other ideas have kept pushing it back. During Star Wars Days last month Ace brought up using the Droid Gunship as the base and I realized the Coruscant Police Gunship was the same price and about the same piece count, so we thought it would be cool to give you the option to pick which of the two sets you'd rather work with and go from there. And although the Republic Gunship is available still and sounds like it fits the bill, the price point and piece count are too high to consider on par with the other two so it's off the menu.
As I said, the rules are pretty straight forward: using as many or as few pieces from either set (you can't use both) your task is to build a new ship or vehicle. Standard restrictions apply, and the deadline will be 11:59PM PST on Saturday May 31st.
The Prizes:
1st place – $75 gift card to LEGO Shop At Home
2nd place – $50 gift card to LEGO Shop At Home
3rd place – $25 gift card to LEGO Shop At Home
(*If you are not in the US you will receive a gift card for the equivalent value in your local currency)
Standard Contest Restrictions:
No more than one entry per person (and you can only pick one of the two sets to work with).
No modified parts or cut stickers (stickers can be stuck to any part, so long as they came with the set).
No unofficial elements.
No pre-existing or virtual models.
No changes allowed after the deadline.
Submission Guidelines:
Simply embed a photo of your model in a reply in the contest thread be the deadline listed above. No more than two photos in your submission please.  Do not post non-entry photos to the contest thread unless you want to risk being disqualified. You must have a forum account to enter, entries by proxy will be not be allowed.
You must use Flickr to host your entry pictures because we rely on the built in image resizing feature for the polls. If you do not have an account you can sign up for free. Once you've uploaded your photos you will need to embed them in a reply here to complete your entry. To do so: first go to the flickr photo page for your image. Click the Share button to the right corner of the photo, it's a rectangle with an arrow swooping out of it. Click on "BBCode"  then change the size to Medium and copy the code that is highlighted. Paste that in the reply field in the forum and hit preview to make sure it worked. If it didn't, PM Solo for help.
Photography note: be sure to submit the best pictures possible. Color and contrast correction is recommended if necessary. The only other image enhancement allowed is replacing the background with either a solid color or simple gradient. Your photo cannot be altered in any other way. For example; no composite views, special effects, text, graphics, or scenery will be permitted. Remember, the contest is about the models – not your image manipulation prowess.