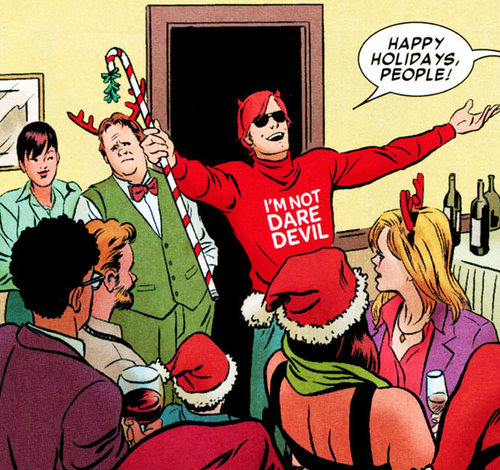 I wish that this wasn't something that most of us had seen coming, but yesterday Netflix announced that Daredevil would not be renewed for another season. If you haven't watched the show, which was fantastic, you're missing out. The most recent season just came out a couple of months ago and was a sharp improvement over the second one (which was still good, just not as good as the first), and while they did tie everything up, there were certainly places they could go still with Nelson, Murdock, and Paige.
Daredevil follows other Netflix shows Iron Fist (those who watched the second season said that it was vastly better than the terribad first season) and Luke Cage (haven't watched it yet either) to the cancelled bin, leaving just Jessica Jones and Punisher in production. I'd fully expect for them to be cancelled after their next seasons, and I'd be surprised if Punisher even gets that far.
The unstated reason behind all of this seems to be the movement of Disney to their streaming platform, which has been long announced and is supposed to come sometime next year. The Netflix Marvel stuff sat apart from the rest of Marvel's universe, with it's darker, more violent, and much grittier take on the MCU (gritty in a good way, not a DC way). Where it really worked was in the casting… Charlie Cox was great as Matt Murdock, but it was really the rest where it shined. Elden Henson killed the character of Foggy Nelson, but it was Vincent D'Onofrio as Kingpin that gave us probably the best, as well as the most complex and nuanced, villain in the whole of Marvel's TV and movies. Don't get me wrong, I like Thanos or the even better Killmonger, but neither of them were anywhere near what Daredevil was able to do (and as a fan of the comics, do right) with Kingpin.
There's a lot of worry about shows like this going by the wayside once the House of Mouse takes over… but I don't think that is as big of a concern as it simply being lost in the crowd, or worse, being recast. Disney didn't purchase Fox for their kid's fare… it was for a lot of content that would fit the same sort of audience that the Netflix shows did. After all, once that deal closes, they will end up owing popular streaming stuff like Family Guy, It's Always Sunny in Philadelphia, Archer, and the Simpsons. The shows that have been cancelled also weren't produced and filmed by Netflix… they were done by ABC Television and made available on Netflix, so Marvel seems to have the full rights to the characters and Netflix the streaming rights.
The PR itself was kind of weird, since it ended on this line…
While the series on Netflix has ended, the three existing seasons will remain on the service for years to come, while the Daredevil character will live on in future projects for Marvel.
In a perfect world, this would translate to "season 4 will be on the Disney service" and we could get excited. But who knows what they will do with it. Most of the mains in the show are contracted beyond their current series (Charlie Cox has a contract that could include movie appearances, potentially), and depending on the numbers (which Netflix never shares), ABC could be throwing away a valuable property with an established fan base. That being said, there are already several other projects in the works for the MCU with ties to the movie. Agents of S.H.I.E.L.D. had been winding towards a finish, but recently got renewed for another season, likely rolling over as stream fare itself when Disney+ launches.
In short, we won't be suffering for stuff to watch… I just hope that the style and content established in the Netflix shows live on in the future…