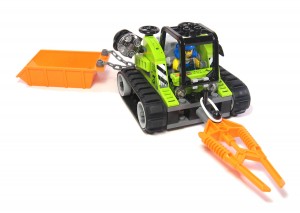 When I first saw the Granite Grinder
on the shelf at Target, I thought "Dawww… how cute!" And I continued along my merry way, not giving it a second thought as I drooled over meatier offerings like the 8960 Thunder Driller and the 8961 Crystal Sweeper.
The next time I saw it was in the hands of a fellow member of the Los Angeles LUG, and I got to see it in action. When I saw what this puppy could do, I had to have one.
So does the set rock or is it fool's gold?