I couldn't think of another word for "giveaway" that started with the letter "m". Undeterred, I offer to you, loyal readers, this post of this month's giveaway. Inspired by the Target-exclusive MINI sets, this is your chance to win yourself a multitude of MINIs, everything pictured here except the ugly carpeting: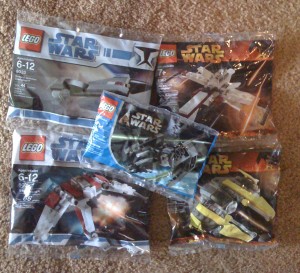 1 copy each of:
6965 TIE Interceptor
6966 Mini Jedi Starfighter
6967 Mini ARC-170 Starfighter
8031 V-19 Torrent
8033 General Grievous' Starfighter
Unfortunately, I couldn't find my stash of MINI TIE Fighters to add to the prize pool. If you saw my storage problem, you'd understand.
To win, all you have to do is send an email to [email protected] with the subject line of March of the MINIs. You have until 11:59pm PDT March 22, 2009 to enter. More rules apply, you can read those in the next paragraph.
(more…)