Posts Tagged 'Iron Man 2'
Ryan "chief" Wood | September 24th, 2012 |
Sales News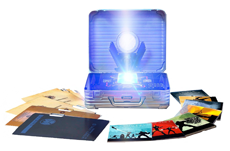 For those of you who pre-ordered Marvel Cinematic Universe: Phase One – Avengers Assembled (10-Disc Limited Edition Six-Movie Collector's Set) [Blu-ray]
from Amazon, there is a bit of news regarding its release. According to VideoETA, Disney pulled the listing due to a legal dispute regarding the design of the suitcase used to house the set. Amazon still has the page up but aren't accepting any more preorders at this moment. It's only a matter of time until the design of the case is changed or an agreement can be made but being this close to the release date though, I'm thinking the latter will most likely happen. Stay tuned here for updates.
The Avengers arrive on Blu-ray/DVD on September 25th, 2012.
Thanks to Morgan19 for the heads up.
Marvel brought their Cinematic Universe: Phase One – Avengers Assembled 10-Disc Limited Edition Six-Movie Collector's Set to SDCC for a little show and tell before they released this trailer on Thursday. It's a great looking set with a whack of extras and the price for pre-order on Amazon at the moment is $139.96 which is only $23 per movie. This set and the anticipation I've had for it is the reason I never bought any of these movies after Kevin Feige began to talk about the long-term plan for the MCU. It will also be the straw that breaks the camels back and forces me to buy a Blu-ray player…
Damn You 21st Century!
Our intrepid field reporter/head honcho type took these photo's of the set in all its glory at SDCC where if you pre-ordered (for $189!) you'd get the sweet limited edition poster of the dvd packaging seen above.