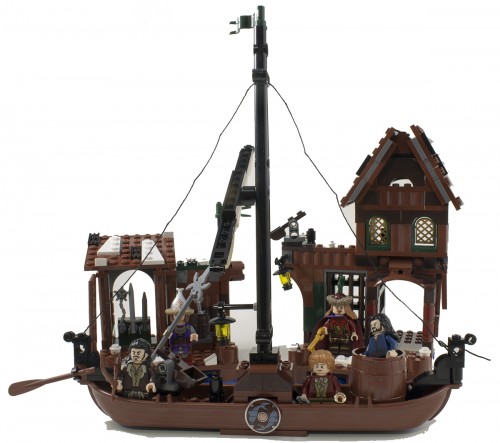 My feelings on The Hobbit: The Desolation of Smaug are on the record, and my feelings about two other sets, Mirkwood Elf Army and Dol Guldur Ambush were about as varied as you could get for two sets. I actually built this set around the same time as the other two, and shortly after watching the movie in theaters. But the review hid from me, because we were overwhelmed with the amzingosity that is The Lego Movie (and I had a whole bunch of sets to review for it)… so this sort of got forgotten.
This was actually the first set we had as a preview for the upcoming sets, revealed at San Diego Comic Con in-between all of the minifigure gnashing of teeth. It was a bit of a letdown, if for no other reason than it wasn't as amazing as the reveal the year before, An Unexpected Gathering, unquestionably the best set in the theme. Once you get past that though… it's still a little bit of a let-down.
At $50, the price isn't as high as Gathering was (that's reserved for the "not even in the movie" Battle of Dol Guldur), but when you look at the pictures for this set and, say, Mirkwood Elf Army, they look almost identical in size. They're not, but it's hard to shake the impression tha the set doesn't give a whole lot. And yet, there is one thing that you'd think could redeem any set, and something that could certainly make me buy a set I'd otherwise be inclined to ignore. Three simple little words…
Lego. Stephen. Fry.