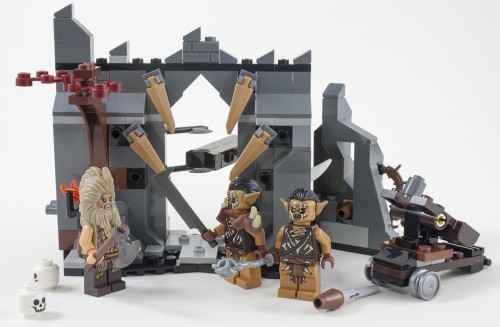 I really liked the first Hobbit set I put together, 79012 Mirkwood Elf Army. The movie it was (very loosely) based on… not so much. With the Mirkwood Elves, I at least knew a bit about what was there, and they were entities I remembered from the book. I won't really say characters, because none of the elves, other than Thranduil, even had names as far as I can remember.
Dol Guldur, on the other hand, wasn't something I remembered. Which meant I had to go to the great source of infallible information… Wikipedia, and it's cousin that we don't let near any matches, Wikia. Turns out it was mentioned in the original movies, as well as the books those were based on, during the Council of Elrond. In the book, it was just called the "Dungeons of the Necromancer" and never visited. Especially by Beorn, the skin-changer guy who played a crucial role in helping the dwarves and then at the Battle of Five Armies (and no point really in between).
This is the smallest set in the second wave of Hobbit sets, coming in at $20, and includes an Beorn as an exclusive figure, a couple unique parts, and of course, flick-fires. There might be some minor spoilers in here, so just a warning.