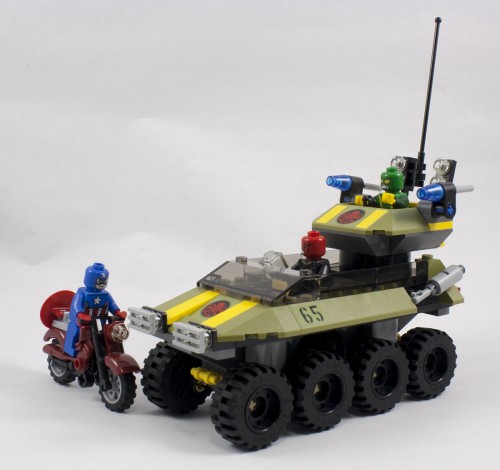 Take a read through Ken's review of Thor: The Dark World, and his biggest beef with that movie and it's lack of tie-ins to Lego sets, and you'll get one of the big problems with the Marvel lineup this year. There are some sets coming out for Guardians of the Galaxy, but that's pretty much it for movie tie-ins. Which means that Lego has ignored two big releases, Thor and Captain America: The Winter Soldier, opting instead for Avengers Assemble, the Disney Channel cartoon.
From the point-of-view for Marvel and Lego, that makes sense… Avengers Assemble is one of their popular shows and it has a bigger exposure over time than the movies do. But it really looks out of place in toy aisles full of figures from the movies (and the cartoon) to keep ignoring the big releases. That's not to say that this set (and it's cousin, Hulk Lab Smash), are bad sets. Far from it… this is an interesting set that gives us a new Captain America and his greatest nemesis, Red Skull (along with a Marvel henchmen that's not Chitauri). It's also a chance to put captain on a proper motorcycle at last, and give us some nice Hydra stickers to decorate our MOCs with. That and I bet there's more than a few classic army type builders that will get this set just for those number stickers on the side.
At $20, the set seems like a great value, but at only 172 parts, you're left wondering if it comes up being a little bit short. It's price point is replacing two stand-out sets as well, Wolverine's Chopper Showdown and Loki's Cosmic Cube Escape, which means that the bar is set up pretty high for this little set right out of the gate. Given that there are only two sets in the early Marvel Lineup that don't feature the same Spider-man figure (and that trike set is just absolutely awful), is this one worth some of that hard-earned money?