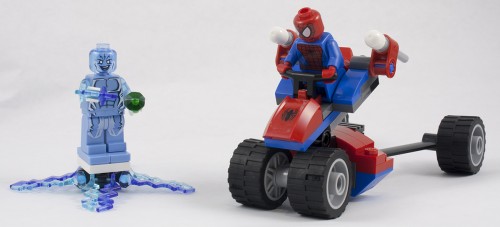 Sometimes, your first impressions are very wrong on a set. Like when I built the most recent Republic Gunship and was very impressed with the updates and overall feel of the ship. Or how nice The Lego Movie sets turned out, despite me not being impressed on the initial scenes. Just saying, sometimes a set can surprise you. Then again, sometimes your first impressions are spot on. I still think the most recent Sail Barge was a let-down that was only made worse by play features that made no sense (it was like buying a Superman action figure that comes with special battle armor and a sword… why does he need any of those things?).
This set, Spider-Trike vs. Electro, manages to do both. My first impression of the set was that it looked dumb and a bit too small, but wow, that transparent head on Electro looks slick. After purchasing it, and building it, I can say that I was wrong. It is way too small, exceedingly dumb, and perhaps one of the worst sets for the value that I've ever built. Somehow, I managed to overestimate a set that I already had low expectations before.
I'll just warn you now, this set will be rough on this glorified polybag. I'm going to scrounge for some good things that don't involve Electro or getting 5 force lightning bolts… but it won't be easy.