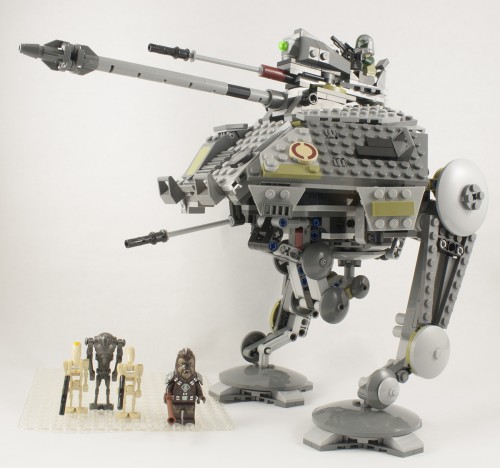 When we first started to divvy up the review schedule for this year, I volunteered for the AT-AP on a whim. I owned the original (even though it was parted out… and then un-parted for this review), and remembered it somewhat fondly. My love affair with walkers is fairly well known, but to be honest, I didn't think all that much of this particular set. It didn't strike me as all that different from the original, which wasn't exactly spectacular, and the price was considerably higher ($60 for the new one while the old one only ran $40).
I actually have a process when I build sets like this for review along with the older version. I always build the new model first, make some observations, and then go build the old one (or ones, in the case of the Jedi Interceptor). I got the added fun with this one of digging through hundreds of thousands of parts and old sets to get the things I needed, which was… something. Everytime I do that, I swear I'm never parting out another set (and then do it anyway when I run out of storage room for sets), and then jump to doing some comparisons.
Most of my notes for this set consisted of stuff like this…
"12 steps of nothing but technic stuff"
"Is this really all that different?"
"Legs seem a lot nicer looking in this one with the bricks"
Usually, I have a good idea of the old vs. new comparison during the new build… my memory isn't quite that bad, but it does occasionally fail me. This was one of those situations, where I was obviously remembering the old set in a far better light than it deserved. It wasn't a bad set, exactly, but it wasn't a good one either. It looked okay standing there next to an AT-TE, because as much as I harp on the PT as movies, I really like making displays of clones and jedi cutting through battle droids. What can I say, a toaster wronged me years ago, so I want to cut down some robots! Anyway, I built the new one, jotted some notes, wasn't really blown away, and shelved it to go start getting the old stuff going.
It was putting together the old one that really started to reveal just how much of an upgrade this new set was. Without putting them side-by-side, you won't realize that there is a size difference on the legs (and a bit on the body). Without holding them both you won't realize that the old one was light and flimsy and the new one is built like a rock. Having over 300 more parts did wonders for this model, and not just on looks. This is probably the first review where I had to go back and review the new set after building the old one, because my initial notes obviously didn't do it any justice.