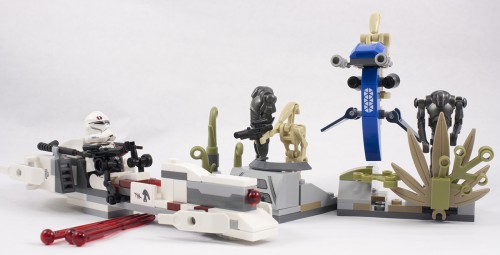 When is a battle pack not a battle pack? The obvious joke answer is "whenever it's one of the crazy minifigure assortments in all the other sets," but that's too easy. Maybe when a set is focused on a few figures of the same type that can be used to build an army, and more than that, battle? Nah, can't be that obvious.
Battle on Saleucami is an odd set. It's battle pack sized, but marketed as a regular set. At $15, it's the first set at that price point since 2005's Tri-Droid fighter (or 2006's $16 A-Wing), and sort of sits in a strange place between LEGO's $12 battle packs and $25 base sets. 183 pieces is certainly nothing to sneeze at in a small set like this, even if it's heavy on battle droids over regular minifigs (you get one, a Clone ARC trooper).
At first, I figured this was kind of a throwaway set in the lineup because Lego didn't want three different battle packs for Clone Troopers. After building it though, I'm thinking that this should be the benchmark for all Lego Battle packs. It combines some very interesting and unique play features with some good builds and decent army builder figures (assuming you're building a droid army, that is).