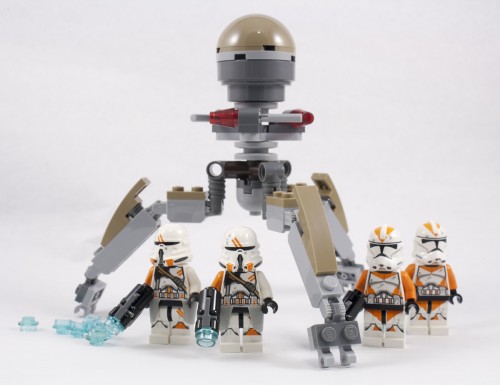 Did you realize that battle packs have been around for seven years now?  I'm actually kind of scared to count how many of the things I've bought, because they're just easy. Even when a pack isn't all that great, sometimes it's just fun to crack open a set and build something (like that Assassin Droid battle pack from a few years ago). Of course, one of the biggest problems is that it's just been years since the promise of those original battle packs, with their regular rank-and-file Stormtroopers and Rebel Troopers, were the kind of thing you could buy a bunch of to build an army. 
This has been especially problematic with clone troopers and battle droids. Yes, there are some special colors and commanders, but in the movies, even in Episode III, it was all of the regular troops that were there to blast things and get shot. Sadly, we're still waiting, as both of the Episode III battle packs this year only include special troopers, Utapau 212th Clone Legion and the Kashyyyk Troopers under Gree and Yoda. So, orange and green, but no plain white in anything other than the Microfighters Clone Turbo Tank.
I wouldn't normally get (as) hung up on that fact if there wasn't a brand new Clone Trooper Phase 2 helmet, and suddenly, my colored troopers look different from everything else. I've mixed/matched before, but it'd be nice to have a better source of regular clones. Instead, we get the guys that tried to off one of the few competent Jedis (Obi-Wan), and not even the commander. But hey, it's a $13 set that gives us four troops and a droid, so it can't be all bad… right?