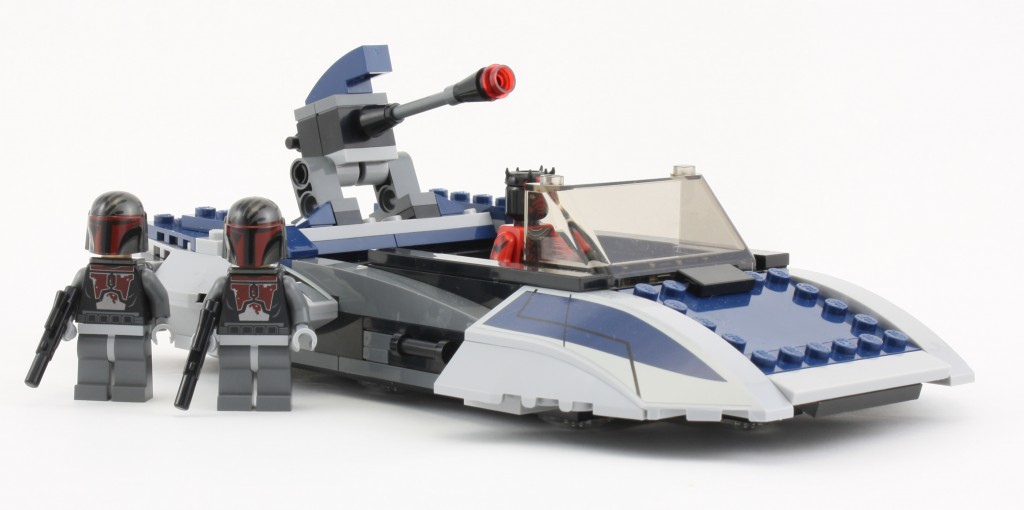 Sometimes, it's fun to just sit back and pretend what's going through the heads of TV show writers and producers, because you sort of just wonder what insane stuff goes on there. I'll just skip past all of the drug and money jokes, because this is a family site (at times). It had to be especially tough to write things for The Clone Wars, because there's considerable evidence that they were hamstrung by just about every bad idea to ever spill from George Lucas' noggin (see, midichlorians).
Producer: "You know what the kids love? That red Santa Claus looking guy from Episode I."
Writer: "Darth Maul? He died at the end of that movie. Obi-Wan cut him in half."
Producer: "What the heck is a Old Boy Juan?"
Writer: "He was the main Jedi from that movie, the one who found… you know what, never mind. He died too."
Producer: "We should bring Darth Maul back! His death was pretty ambiguous, right?"
Writer: "He was cut in half."
Producer: "See? Ambiguous! It's the future-"
Writer: "Actually, it's the past. Long time ago, in a galaxy far… never mind. But we already replaced him with his older brother, Savage Opress"
Producer: "I love that guy! That name was my idea I know, it's subtle. That's why his last name is slightly misspelled."
Writer: "Yeah… so we already have someone in that role"
Producer: "He's yellow, kids hate yellow. They like red. They see him and they think 'wow, it's like Big Bird.' Big Bird is yellow, and kids hate Big Bird."
Writer: "What?! He's one of the most popular children's characters ever. Everyone grew up watching-"
Producer: "I've got it! We give him Robot Legs! That way he's a robot and red! It's brilliant!"
At least, that's how I imagine it going. Because… Darth Maul with robot legs. I know, I know, it was touched on in the comics, but the comics are to canon and the EU the same way that Twilight is meaningful source material to any Dracula movie. They gave us a white-armored Vader in an awkward pose with his daughter, after all. The Clone Wars are firmly in the EU canon, though, which gives this some sort of legitimacy.
At $25, the Mandalorian Speeder joins a less-than-illustrious group of  speeder sets from the last few years, most inspired from the Clone Wars. It gives us two Mandalorian Commandos, a half-AT-RT, half Zabrak Darth Maul. But it's in a price point that competes with the BARC Speeder, A-Wing, and Desert Skiff sets (and it's not too far off from several great $30 sets). 211 pieces is perfectly average in something like this, so hopefully, there's something to carry this set.