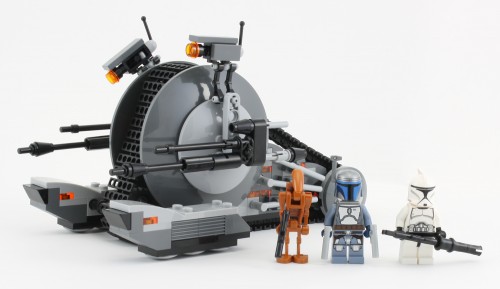 When I saw the leaks of the second-half sets for this year, it wasn't the RGS that excited me (I didn't like it at first, and I was totally wrong about that), or the Sail Barge (still think it's awful), or even Jar-Jar's Taco Truck. It was this simple little set, and for a very basic reason that I've decried in a lot of other reviews: because of a mini-figure. Jango Fett is one of those figures that I never managed to pick up.I disliked Episode II, and didn't invest in many of the sets, being both freshly out of college when they came out (and as such, poor) and investing in other things like rent.
The sets I did buy, like Obi-Wan's Jedi Starfighter or Bounty Hunter Chase were on the cheap side. I have gone back and filled in some of those gaps, like the AT-TE, but never wanted to pay the price to get Jango or his little, totally ineffectual, clone. Of course, I've been very hard to Boba Fett in my reviews, mostly because I think he's just terrible at everything other than playing hide-n'-seek (R2-D2 has more confirmed kills than the most dangerous bounty hunter in the galaxy).
Jango, on the other hand, actually managed to kill a few Jedi, had an entire army created from his genetic code, and actually managed to live up to the "coolness" that was the Mandalorians. His only mistake was trying to take on Samuel L. Jackson… something that is never a good idea. The only thing that can kill SLJ is terrible writing (see Episode III).
At $20, this set is downright budget, and makes getting Jango easy (young Boba is in the Advent Calendar, so hopefully those old figures will drop in price). This is also one of the easiest sets to get a Clone Trooper in, something that's missing in a lot of sets that need them. The droid tank itself is forgettable at first glance, though it did exist in Episode II (right up until it was blown up by a lot of Clone Gunships)… worst, it's based on a design that was absolutely horrible when first introduced in the first Episode III wave and later revised in the first Clone Wars. It was fragile, flimsy, and kinda ugly looking. So for that part, there are reasons to be skeptical about building up your armies here…