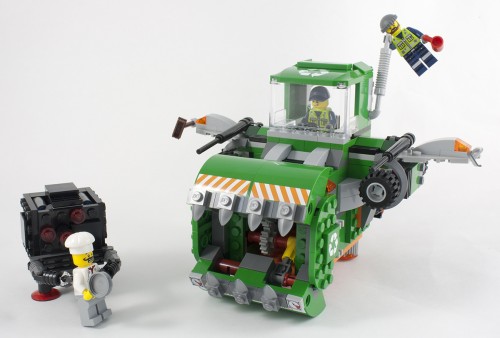 When the alternate builds dropped for The LEGO Movie sets, there was one set that just grabbed my attention: 70805 Trash Chomper, the $30 set with an impressive 389 pieces. The actual chomper set was fairly "eh" for me, since I've never been a big one for flying dumpster monsters. But when it comes to city trucks, I absolutely adore sets with things like garbage trucks (or recycle trucks, tractors, construction… basically non-Fire and Police stuff).
Part of that is because sets like that are always so different. A frequent complaint of mine in recent years is how much Lego themes seem to rely on setting up some kind of conflict. Obviously, that conflict exists in some things (pretty much any licensed theme), and even makes sense in their original stuff (Space Police, Ninjago, Chima). But I never get why things like Castle and City have to have a bad guy tacked on to create something like that. It's especially stark when you look at some of the best sets in the line and how often they just ignore that other half, focusing on one thing and executing it well.
Okay, to be fair, there's obviously a conflict in the Lego movie, but in the best sets, it seems like it's more about the build than it is that conflict. Trash Chomper seems to really drive that home, giving us a robot that's maybe 30 parts and then focusing all of its efforts on the trash chomper. Better than that, it's a full 2-in-1 set, which means it gives you a second instruction book for building a traditional garbage truck instead of the chomper. The real question is does the set manage to live up to my, what are typically unrealistic, expectations based on a couple of pictures online?