Posts Tagged '70801 Melting Room'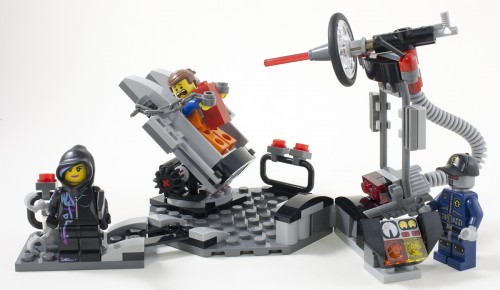 First impressions can be important. It's why you should never lead with the offensive joke (save that for the hook), why everyone wanted to strangle Jar-Jar the first time he opened his mouth, and why some Lego sets can sort of languish after you see the previews. Sometimes, though, a first impression is just flat-out wrong. My first impression of the latest Republic Gunship was "this looks like the old one… meh." And yet, in my review, it ended up being one of the best high-end sets I've ever put together.
My first impression of the Lego Movie sets was "those look somewhat silly but nothing all that special." Sure, there was some stuff that held mild interest for me, like the minifigs, but none of the sets really popped out. Then, I saw some of the alternate builds, and I decided that, yeah, I'll be getting a few of those sets. When I went to see that the Michael Bay presents "The Hobbit" I laughed at The Lego Movie setup out front that featured a Classic Space minifig with a broken helmet, something that anyone who had these sets in the 80s recognized immediately.
Now, after I've gotten these sets, and started to put them together, starting with the $12.99 small set, 70801 Melting Room, I can say that Lego has done two things:
They've made it so I absolutely want to see this movie, because just looking at the sets up close make it look insane and fun
In the first two pages of the instructions, they've made it a certainty that I'll be buying multiple copies of The Melting Room…
Well played, Lego, well played.