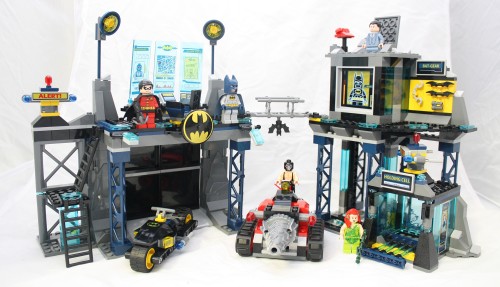 Wait, I know what you're thinking… "a review of a set that's almost two years old?" Well, except Don, who's probably thinking about R2-D2 in a bikini, but the rest of you are probably on the whole "old set review" thing. There is a reason for this madness, and it begins with the original Batman line. I had the original Batcave, and liked the set well enough (though really, I just loved those baseplates used for the different components in it). In fact, I owned several of the original set… because a lot of people skipped them, and they ended up showing up at my local Tuesday Morning, where bad toys go to languish on shelves for years.
Once the sets were discontinued, everyone suddenly realized that Batman is awesome, and wanted a piece of the set. I sold every figure I had from the original batman sets and recouped all of the money I made buying sets from the entire line… like four times over. Fast forward to now, when this set is going to be hitting it's end-of-life within the next six months (at least through retail chains). Super Heroes shows no signs of letting up, and that is a good thing, and LEGO is under the completely mistaken belief that you can't make a DC superhero line without including a Batman minifigure… the chance of another Batcave showing up within the next few years is miniscule at best.
At $70, $30 lower than the first iteration, and the piece count is down almost 400 for your savings (1075 in the original, 690 in this one). And that leaves the question, with more Batman sets on the way, the last one being in big demand after it retired, and this one getting close to being locked away… is it worth your money?