7598 Pizza Planet Truck Rescue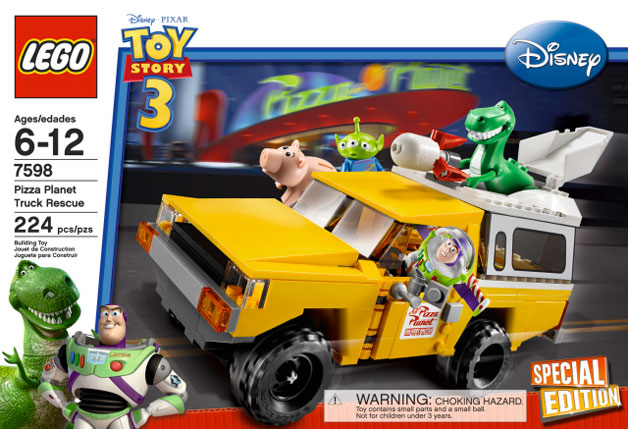 Staff Review:
I absolutely love this set. Allow me to show you all why... Few sets excite me from day one like this truck did. Like I've said before, I love Toy Story (and everything by Pixar for that matter), and the running gag to include this pickup in every film of theirs makes me smile. Plus, I used to deliver pizza in a Toyota back in high school, so this set is like a double wave of nostalgic awesomeness for me. Check this set out: Target Exclusive, $39.99 retail, 225 pieces and 4 "minifigs" - Buzz Lightyear, a Little Green Man, Hamm, and Rex. Kinda steep? OK, granted, that's 17.8 cents per part. But look at those figures! Also, those panels on the truck? Printed. Oh yes. I happily dropped $40 for this (and subsequently kicked myself when it went on sale for $30). I seriously love this truck. I don't care that it's...(read more)
User Comments:
Flynn

writes:
Pros: I don't like to say this, but the figures are amazing. Ham and Rex are insanely cute, and the overall selection of figures is quite nice. Additionally, the look of the set is spot on, and there's a number of fun features to be had.

Cons: The price.

Comments: I was striving to think of more cons for the set, but really, it's only real problem is the price. The figures are excellent, it looks almost precisely like the source material, it has an excellent parts package, and is just overall a very strong set. That being said, it is in no way worth forty bucks. I understand it's because of the large pieces and the specially-molded figures, but I can't look at it and justify it being that much. Ah, well. Besides that infraction, it is a superb set, and I'd say if you can find it discounted (I got it for Christmas myself), definitely don't miss the chance to pick it up. 7/10 overall.



MrCRskater

writes:
Pros: Great details, printed parts, lots of figs, and it shoots pizzas!

Cons: Can't see too many with this set

Comments: This set is really darn-near perfect. The look is spot-on, which is aided by printed parts (no stickers here!). Comes with several windscreen parts. The truckbed cover pops off fairly easily to seat Rex and others in the truckbed. The pizza shooter actually works quite well, though it is mounted in the chassis so it works best on a hard surface (pizzas slide) and does not send pizzas airborne.