7598 Pizza Planet Truck Rescue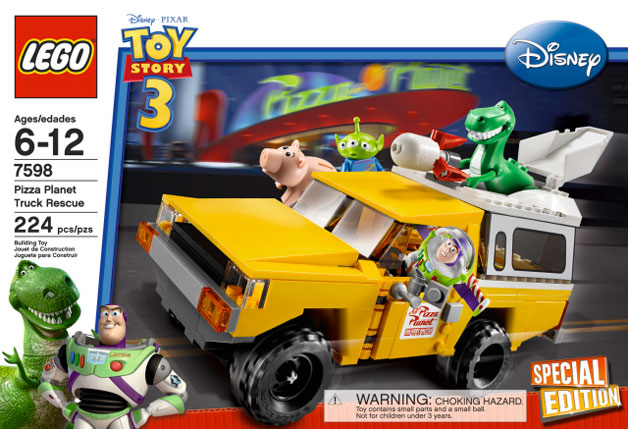 Staff Review:
I absolutely love this set. Allow me to show you all why... (more…)(read more)
User Comments:
Flynn

writes:
Pros: I don't like to say this, but the figures are amazing. Ham and Rex are insanely cute, and the overall selection of figures is quite nice. Additionally, the look of the set is spot on, and there's a number of fun features to be had.

Cons: The price.

Comments: I was striving to think of more cons for the set, but really, it's only real problem is the price. The figures are excellent, it looks almost precisely like the source material, it has an excellent parts package, and is just overall a very strong set. That being said, it is in no way worth forty bucks. I understand it's because of the large pieces and the specially-molded figures, but I can't look at it and justify it being that much. Ah, well. Besides that infraction, it is a superb set, and I'd say if you can find it discounted (I got it for Christmas myself), definitely don't miss the chance to pick it up. 7/10 overall.



MrCRskater

writes:
Pros: Great details, printed parts, lots of figs, and it shoots pizzas!

Cons: Can't see too many with this set

Comments: This set is really darn-near perfect. The look is spot-on, which is aided by printed parts (no stickers here!). Comes with several windscreen parts. The truckbed cover pops off fairly easily to seat Rex and others in the truckbed. The pizza shooter actually works quite well, though it is mounted in the chassis so it works best on a hard surface (pizzas slide) and does not send pizzas airborne.