7594 Woody's Roundup!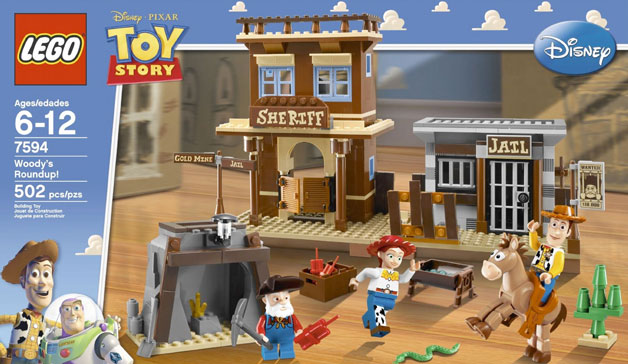 Alternate Box Art: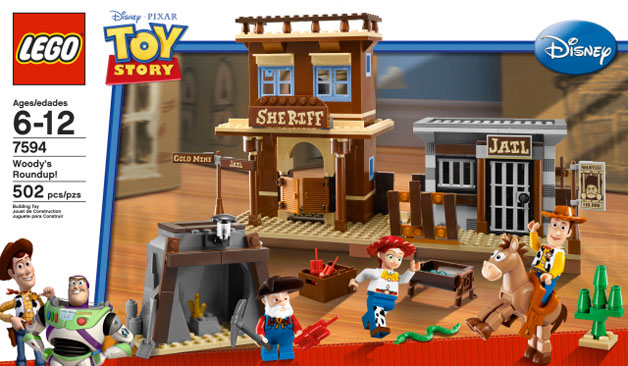 Notes:
The first wave of Toy Story sets based off the first two movies came in blue packaging with clouds, mimicking the wallpaper seen in Andy's room in Toy Story. The package design changed to an overall white scheme with the release of Toy Story 3 sets to better visually tie in all the sets together.
7594 In The News:
Staff Review:
Woody's Roundup, Right here every day, Woody's Roundup, come on, it's time to play There's Jessie, the yodeling cowgirl,(yo-de-la, you-de-la, yo-de-la) Bullseye, he's woody's horse, (grrr...he's a smart one) Pete the old prospector, and Woody the man himself, of course It's time for Woody's Roundup, He's the very best! He's the rootinest tootinest cowboy in the Wild, Wild West Our first big playset in the Toy Story line, and the most expensive set thus far, is the one that fits into that same little niche as Buzz's Starship. It wasn't seen all that long, mostly as outlines, cartoons, and of course, the "show" featured in Toy Story 2. It was also a feature of Disneyland for awhile, with some amazingly creepy looking representations of the Roundup gang (Jesse just makes me shudder... go Google it, sorry about the nightmares that will follow). This set, however, gets a lot right in building a LEGO style into something...(read more)
User Comments:
MrCRskater

writes:
Pros: Lots of character, looks fun and plenty of playability. Lots of great pieces in off colors.
Cons: Overall, the building spaces are a bit small, making playtime a little difficult even for small hands.
Comments: Great set for kids, modular build makes a pretty slick playset. Comes with lots of goodies like handcuffs, printed money tiles, snakes, and cool figs, not to mention neat play features. For older fans, there's still plenty of possibility here as it includes plenty of interesting pieces and colors.



Draykov

writes:
Pros: captures period; something for Wild West fans

Cons: stickers; somewhat pedestrian building design; mine shaft is a waste of brick

Comments: Interesting color choices and fun little building facades, if a little boring. The mine shaft design leaves a bit to be desired (only 2 BURPs though) and seems to be there to drive up price-point.