7593 Buzz's Star Command Spaceship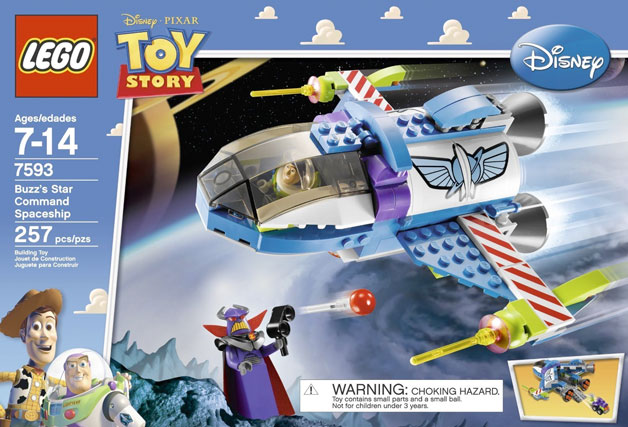 Alternate Box Art: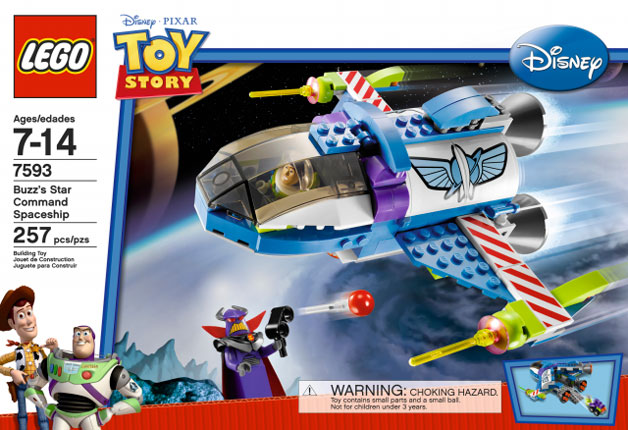 Notes:
The first wave of Toy Story sets based off the first two movies came in blue packaging with clouds, mimicking the wallpaper seen in Andy's room in Toy Story. The package design changed to an overall white scheme with the release of Toy Story 3 sets to better visually tie in all the sets together.
Staff Review:
This was among the hardest of the Toy story sets to review, mostly because it was the least iconic of the first wave, and, as I initially thought, the least interesting. It was designed on something never seen in this form in the first two movies… Buzz's starship was the box the original Buzz Lightyear came in. So, hitting a level of obscure that only Star Wars fans have touched (see the whole T-19 Skyhopper for an example), we have a whole set based on a box. As a ship, I suppose it's passable. The biggest problem, as I alluded to in my 7590 Buzz and Woody to the Rescue review, is that Buzz's wings can only be installed in one position, out. You can take them off (which would be accurate in the some circumstances, go watch the movie), and make him considerably smaller, but that's not how...(read more)
User Comments:
MrCRskater

writes:
Pros: Well-constructed, great aesthetic, exclusive Zurg minifig. Great parts selection.

Cons: Little light on the play features, model is a little small for what you pay.

Comments: The space ship model is well-constructed and comes together fairly quickly without being too simplistic. However, the real value in this set is probably in the parts selection, offering a lot more than simple plates and bricks and in several off-beat colors.



Draykov

writes:
Pros: construction/features slightly reminiscent of Classic Space, exclusive Zurg minifig; includes a nice variety of colors from ubiquitous and useful to wild and fanciful

Cons: design aesthetic/recognizability relies heavily on stickers

Comments: This is pretty much a meat and potatoes spaceship that happens to be from a licensed IP. Solid build with small rover bot thing that stows away in the ample rear compartment which can be revealed by opening hinged segments that make up the upper fuselage (sort of a half clam-shell arrangement - functional and sturdy). A separate access hatch (4x4 plate attached to handle/clip plates) exists at the aft section for the rover.