8096 Emperor Palpatine's Shuttle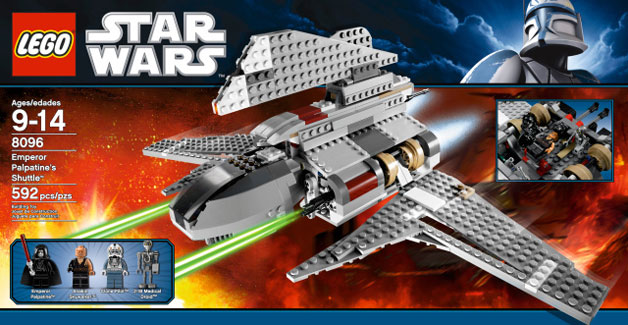 8096 In The News:
User Comments:
Drock

writes:
Pros: The ship is nice and swooshable. The landing gear is a welcome change from what was in the Republic Attack Shuttle. The Darth Vader helmet mechanism is okay, when it works.

Cons: The ship, honestly, doesn't look very good. The dark tan "rollers" on the sides look out of place. The top fin is lazy as meeotch mentioned. After all, a studs-on-both-sides fin was done well in the Separatist Shuttle.

Comments: When I first heard that this set was being made, I didn't think that a good model could be made for the $60 price point. I'd have to say that I was right. The ship is recognizable and passable for what it is, but at this scale, there isn't much that can be done to improve the look. As usual, the minifigs are nice. This is a (relatively) cheap way to get a fleshie (gray-faced) Emperor. Also, the medical droid will make a lot of OT fans happy, as they finally get the droid seen tending to Luke in Empire. Once again, a mediocre ship with nice minifigs.



meeotch

writes:
Pros: All pieces are compatible with all other LEGO pieces.

Cons: Ugly, ugly, ugly

Comments: I really didn't have any desire for this set, and am only able to write this mini-review because it was given to me as a gift. I thought it was ugly when I first saw the set in preliminary pictures, I thought it was ugly when it was released, I thought it was ugly after I built it, and when I checked Wookieepedia to compare it to the source material, I really thought it was ugly. I'm most disappointed in the fin that has what is normally the underside of plates visible on one side, but studs on the other. I think they could have done something about this during the design process without adding building techniques more advanced than the ones all ready used in this set. On the plus side, the Darth Vader helmet-affixing / table-raising device is kind of cool.