8092 Luke's Landspeeder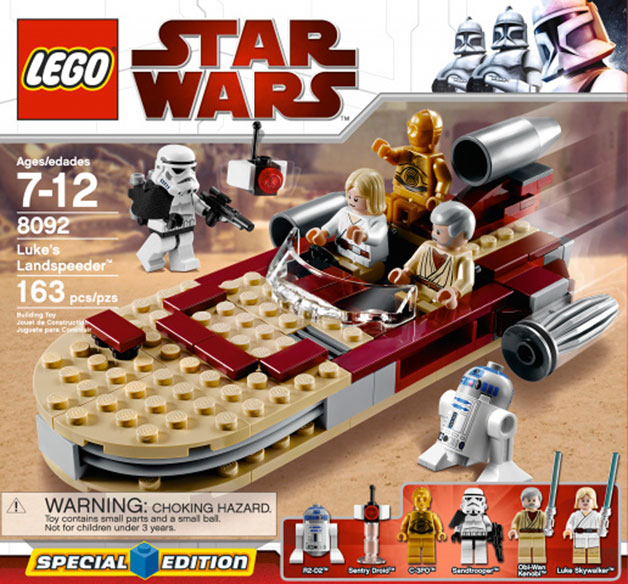 Staff Review:
Ah, the iconic vehicles of Star Wars... Will you ever stop being redesigned? Ha! Don't count on it. So far we've seen four versions of Luke's Landspeeder, although maybe my inclusion of the 2008 Key Chain/Bag Charm is a bit too generous. I know it's hard to come up with new set ideas for Star Wars since all the well known ships have been done (repeatedly) but I'd love to see some more Expanded Universe ships that aren't from the pre-ANH era. Even so, I don't mind this redesign too much. It's a decent mix of the better aspects of the two previous sets and it has plenty of appropriate characters included to make it almost feel like a playset instead of just a vehicle. This one retails for $24.99 and comes with 163 pieces, and for that you get the Landspeeder itself and 6* minifigs (*if you consider the brick built...(read more)
User Comments:
Drock

writes:
Pros: Lots of good minifigures for the price. They are great, and to get Luke, Ben, R2, 3PO, and a Stormtrooper with black pauldron and backpack in a $25 set is outstanding.

Cons: Not many pieces for the price.

Comments: It's been awhile since a Landspeeder has been around. I've been collecting since '07 and this is the first one that I've been able to get. The design is pretty good and simple. I can see why kids would love this set. Some of the minifigs can only be found in other, more expensive sets.



meeotch

writes:
Pros: Best official Landspeeder incarnation, best set in its wave

Cons: Hard to find, I'm not sold on the way the stripped down engine was made

Comments: I thought that the set was beautiful. Since I didn't have any of the earlier Landspeeders, this filled a hole in my collection, and upon comparison to the others, I definitely feel that this captures a nearly perfect balance between being "LEGO-y" and accurate. My one gripe is with the port nacelle, and think it looks much better by simply removing the dish affixed to the front. The minifigs push this set out of the spendy category and into the good-value category, especially considering the current pricing trends with LEGO on the whole and licensed themes in particular.



ted @ndes

writes:
Pros:5 minifigs (and of desirable SW characters), diverse parts, lots of tan/red

Cons:License pricing/part ratio, exsessive exposed studs in build

Comments:For the parts you do get in this set, there is a really good variety IMO; grilled cheese, dark red tiles/slopes/cheese, tubes, dishes, 4 saber handles, curved windscreen, wall tiles, boat tiles, engines, etc. Those parts, in those colors, have just filled a lot of gaps for me... Despite the potential for more "value" in an unlicensed set (like Pharaoh's Quest ), the variety in the 8092 landspeeder set is what scratched my immediate parts itch... and for a licensed SW set, that surprised me a bit. On the build itself, I guess I'm a bit biased towards the smooth/tiled surfaces I see in MOC's all the time. Would have been nice to have a smoother top surface, but I undertand the existing part limitations (and definitely not asking for another BURP-type pannel out of TLG)



doodlebird

writes:
Pros: 5+ figs, quick and easy build. great looking. nice play value with the necessary figs for a quick game of "these are not the droids..."

Cons: none at this price point, except perhaps as noted before, the large amount of Danish air. mmmm... Danish.

Comments: do the math however you like...if you want to put the price of a fig at $3 (CMFs are $2.99, build a fig in store is $10 for 3) then the figs alone are $15. $10 for a speeder is nice. OR battle packs are half this price with only four figures + a dinky mini-vehicle of some sort. so for $12 extra you get another minifig + IMO the best of the 3 landspeeders so far. the flex tube (also in the 4501 version) is nice, but it's the curved windscreen that takes it over the top. the trooper's pack & pauldron are a nice touch too.



Andi

writes:
Pros: Cheap way to get some of the main characters of the OT in flesh/new color schemes

Cons: There is something about the Landspeeder what I don't like. I can't say what, though.