7913 Clone Trooper Battle Pack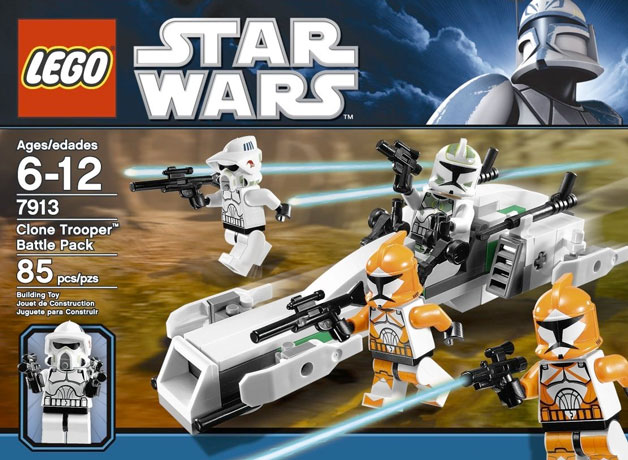 Staff Review:
I've never been a big fan of the Clone Wars style figures, so it's hard to believe this is my favorite battle pack so far. Apart from one real gripe (and my typical hatred of the unbearably ugly clone face) this almost qualifies as "perfect". First, lets get a good look at the figures... because honestly, that's why we buy battle packs: Starting on the left is a pair of Bomb Squad Troopers, showing off just how good orange looks on clone armor (and why I prefer to leave the helmets on). They remind me of the Utapau Troopers from Revenge of the Sith which I always liked, and they'll definitely stand out from the crowd of white helmets in anyone's collection. Next to them is a sand green highlighted Clone Trooper, with a unique paint scheme on the helmet torso and legs. Excellent for variety. On the right is the ARF...(read more)
User Comments:
Stegoceras

writes:
Pros:
- The amazing new mini-figures
- The BARC Speeder is in my opinion the best battle-pack vehicle as of yet.

Cons:
- The ARF-trooper would have looked so much cooler with a new printed body to fit that awesome helmet. (of course giving him the clone commander body is a suitable option)
- Two Bomb-squad troopers, which I think reduces the use of buying multiples of this set. (why would you want an army of Bomb-Squad troopers)

Comments:
An awesome battle-pack to spruce up your clonetrooper army, even the BARC-speeder makes a great addition to your clone army ground forces. The only big drawback to me is the 2 bomb-squad troopers which would stop me from buying many multiples for army building since I think more than 4 or so bomb-squad troopers would be redundant (they are just not front-line army material in my opinion). I'd rather have seen TLG put in an extra of one of the other two or even better a clone pilot (I even would have settled for a regular clonetrooper), but all in all this battle-pack is worth it and a definite buy for any Lego SW fan.